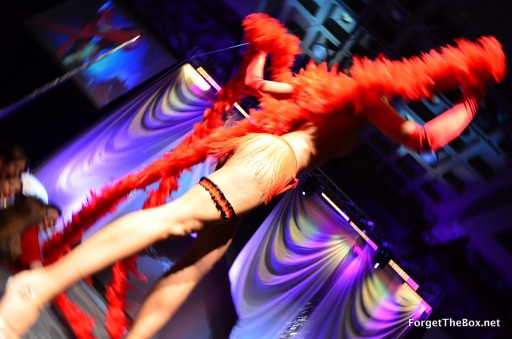 Dust off your whip and polish up the latex: that's right, it's Montreal Fetish Weekend. To commemorate its 7th edition, this year's theme is the Seven Nights, Seven Sins. Photographer Chris Zacchia and I will see how many we can commit as we pop our Fetish Weekend cherries and explore the darker side of human sensuality.
Having never been to any large-scale fetish event, I'm not entirely sure what to expect. The website is laden with glossy images of sexy men and women in sleek, intriguing costumes. Despite losing almost 95% of their sponsorship from donors and supporters that were hit hard by the global financial crisis, the festival keeps growing from year to year. And ticket sales are up for this year's edition again!
The weekend kicks off with a night of sultry opulence and fetish fashion, the Kabaret Kink at L'Olympia Theater (1004 Ste-Catherine East). The cabaret-style fashion show will feature over 40 performers and models showcasing designs by local up-and-comers and international icons, set against the elegant backdrop of a gilded 1930s theatre. Watch for my review next week!
Saturday night, Olympia again plays host to Latextacy, a fetish fantasy ball with an emphasis on avant-garde fashion. And if you're not completely fetished out by Sunday, there's the Night of Masks, which is being billed as a sensual Victorian masked ball. All three events have fetish dress codes that include the likes of leather, latex, PVC, cosplay, Gothic, glam, lingerie, etc.
And it's not all just corsets and galas either. On Saturday and and Sunday, there's a vast array of workshops as well as the Expo Kink, which features local and international designers at the Hotel des Gouvenors, 1415 St-Hubert Street.
On Sunday afternoon, Infringement Festival co-founder Donovan King and burlesque performer Velma Candyass will give a walking tour of hot spots from the city's former Red Light District. This will be their third time this year leading the tour that examines the Red Light District from both a historical and contemporary perspective, touching on the impact of gentrification, police brutality and corporate attempts to rebrand the area as the "Quartier des Spectacles".
I'm very interested to revisit the dirty glory of sin-city era Montreal and learn more about the last few remaining institutions including Café Cleopatre, host of the monthly "Club Sin" fetish events. It starts at noon at Bar le Midway, 1219 Saint-Laurent, and lasts for 90 minutes. To reserve a spot, email optatif@gmail.com. The cost is $10.
In an attempt to open the weekend up to a wider audience, this year's Festival Weekend also includes a variety of free events, including an afternoon of fetish bowling and pool at Sharx (1606 Ste-Catherine West), and an exhibitionist walking tour on Sunday afternoon. Tour guides Tanis and Stephane will parade the group of fetish-clad freaks and foxy femmes past some of the best photo hot spots in old Montreal. It leaves at 2pm from the Hotel Gouvenors, and fetish wear is compulsory… unless you want to hang about ten feet back of the group to watch the reactions of the tourists.
For more information on any of these events, or to purchase tickets, visit http://fetishweekend.com/.