I remember my first music festival. It was Lilith Fair, the late/mid nineties, and I was around 8 or 9 years old. Natalie Merchant, Sarah McLaughlin, Fiona Apple, Lisa Loeb and soooo many more! All the female power was exhilarating. Less superficial than the "Girl Power" of the Spice Girls (don't get me wrong, I fucking LOVE the Spice Girls). Free spirited feminists, many with armpit hair, ruled the audience. My eyes were open to a whole world of strength, celebration, and raw positivity lead by real live women. I was hooked.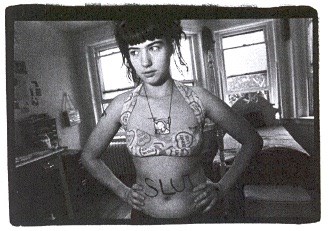 It wasn't long until I discovered Riot Grrrl music: Bikini Kill, L7, Sleater Kinney, and Bratmobile being my favorites. Kathleen Hanna is an absolute goddess. I also adore the obviously Riot Grrrl influenced Gwen Stephani of No Doubt, and Beth Ditto of the Gossip as truly kick ass leading ladies. These bands all brought light to the issues of rape, domestic violence, smashing patriarchy, sexuality, racism, and other socially taboo progressive feminist topics. Girls to the front! Fists in the air! Mini dresses and combat boots galore! I was recently at the Dyke March afterparty and was so moved by all of the female bands. Buffalo also has Vaggie Fest, an all female punk music festival.
Unfortunately not all music festivals or music venues these days are as female powered as I would like. I've seen several blogs where they remove the all male bands from the poster and it is always depressingly scarce. I wondered why this was happening? Why is the music industry so male dominated?
I sat down with three extremely unique and talented female musicians, Ellen Pieroni, Erica Wolfling, and Lindsay Zasada, and I made them brunch. Over our pink champagne mimosas and a literal meat fest we discussed what it's like to be a girl in the primarily male dominated music world. These women have proved that they are more then just tits, an ass, and legs.
Ellen Pieroni
Ellen is in many bands including The Ellen Pieroni Quartet, The Folkfaces, and Blue Stone Groove.
"Things are happening to me recently where I have been getting gigs solely for being a woman saxophone player. I literally got called by a woman from out of town who has never heard me play before and she hired me for a gig just because I was a woman, I want people to hire me because I'm good saxophone player," Ellen says.
"The one problem and I always get from everyone is like 'Oh it's so nice to see a woman up there playing the sax, I love seeing a woman do that.' People mean well saying that so you have to take it as compliment because they are genuinely are trying to being nice. Compisults 'your tone is so feminine' – the sad part is that most time it's women who say this stuff. It stems from the general lack of female musicians. I'm the hottest girl in my band – did I mention I'm in a band with 4 other guys? I'm in a few bands with all guys with the exception of one girl, the incredible singer in Blue Stone Groove."
"I don't think women should ever be discouraged . A lot of women are afraid to join a band and gig. You must go outside of your comfort zone . Mostly only little boys are being handed the sax and not girls in school. It is discouraging early on especially."
"Join the army of female musicians! When you see another one you get excited. In Buffalo State College right now there. equal amount of girls playing sax so I hope things are changing."
We then discussed how women are often over sexualized on stage. They are forced to be the center of attention whether they like it or not. The girls are always staged in front because sex sells. Gotta have that hot stage show wearing tight leather pants and a low cut shirt or the teeniest of dresses. Do I have to dress this way to be successful?
"Just in general I don't like wearing a lot of clothing, it's for me not anyone else. I'm not part of the scenery. You can be an incredible musician but still seen as just a sex object No matter how good I get they will always see me that way. Sax is a sexy instrument it's not my fault."
Featured photo is a shot of Ellen Pieroni performing.
Erica Wolfling
Erica Wolfling is a singer, songwriter, pianist, and an ice dragon. Her voice is like Regina Spektor and Tori Amos had a baby.
"I don't sing about sex. I sing about mental illness and sexual domestic violence. Feel things and emotions for the music I sing and write, not about my body. You are putting yourself out there. Here are my emotions and I can't do it in any other way. I'm doing it in front of a room full of people and all you see is my boobs," Erica says.
"How people perceive women is the problem. Everyone just puts boobs on their music. There is a sadness when they compliment my looks but not the sound, just dismissing the reason I am up there. It will never end! In my professional life too: A man once said to me that 'it's been a business doing pleasure with you.' I'm not just this cute girl. I'm a smart woman who learned this hard thing that you don't know. Fucking respect me."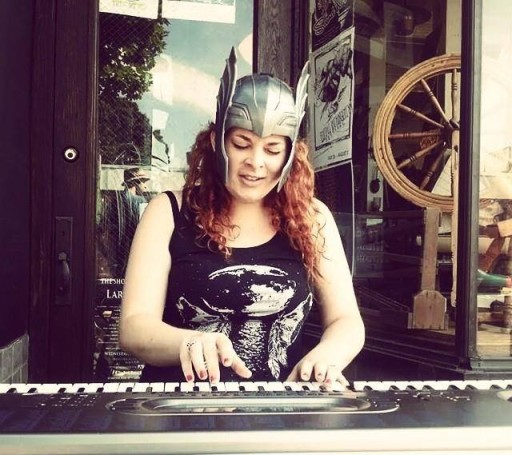 "I don't want to be a rockstar with a harem. It's more like 'Thanks guys gonna go upstairs and hide now.' I never take anyone home, I take myself home, thank you."
"I have this hot mesh and leather dress and a guy outside one if my shows said 'You shouldn't be wearing that, you will entice so many men.' Oh rape culture. Other men say he's just protecting me and women are enraged."
"It's important to wear clothes I can I breathe in. Why did I think it was ok to wear Spanx to perform? Now I don't even wear a bra half the time because I don't want boob sweat. Comfort over sex appeal all the way. I've never had people treat me like this before. I was a late bloomer. Then, when they whistle to you on stage, it's creepy. Being objectified is so strange. I'm treated differently after losing weight. 'You look really good now. You are really attractive now. I would date you now.' I'm not insecure, just detached from it. It's all about self projection and being comfortable in your own skin. It takes a long time to get there."
Lindsay Zasada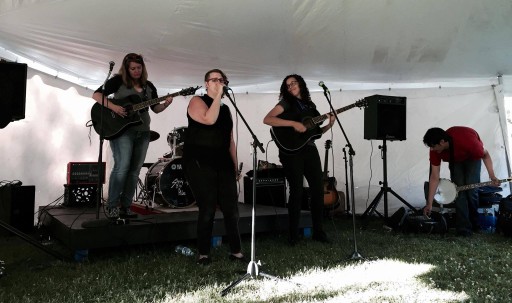 Lindsay Zasada sings and plays a variety of instruments from guitar, to ukulele, and electric violin. She was once in an all girl band called The Cunning Stunts. Her newest band is called West Side Bike Ride, all females and one male, a little different perspective. She says being in bands with girls is empowering but can also be volatile.
"I've never had weird competition due to gender, just people who play the same instrument. It's important to play unique instruments. Unconventional ensembles… Fuck yea! Women should not be scared to pick up any instrument and play."
"There is nothing wrong with being sexy! Lindsay Sterling made tons of money selling her body, not saying she isn't beautiful and talented but the sex appeal is definitely a focus for her."
"A lot of people think it's about attention. I'd rather play my music and not be popular. All the guys are like it's not that bad."
"Sexism infiltrates all parts of life don't take music from me too bro! Music is beautiful and genderless, the person who is delivering it to you shouldn't dictate whether you like it. I just wanna play! It's not just in my head. It's good to know we are all having the same experience."