In his second Oscar-winning performance Sean Penn captures your heart as gay rights activist Harvey Milk, a rebel with a very important cause.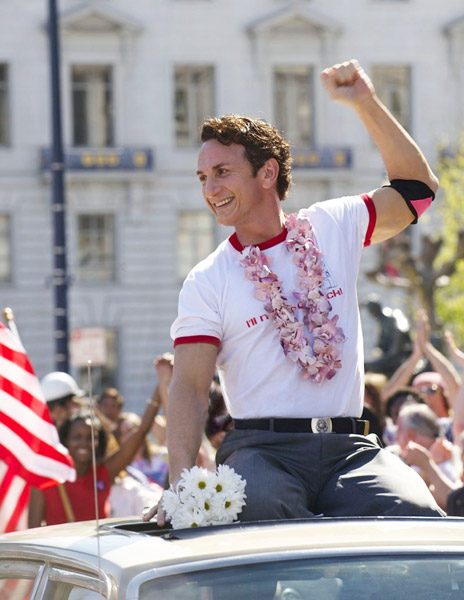 MILK (2008)
Starring Sean Penn, Emile Hirsch, Josh Brolin, James Franco and Alison Pill
Directed by Gus Van Sant
Distributed by Universal Pictures
129 minutes
No matter what kind of douche he may be in his personal life, there's no denying that Sean Penn is a great actor.   For me, Penn's greatest role will always be Jeff Spicoli in the teen classic Fast Times at Ridgemont High (1982).   But as gay rights activist Harvey Milk, Penn is brilliant portraying a real life man who had the courage to stand up for his basic human rights- during a time when most of society believed that homosexuals were pedophile rapists who shouldn't be allowed out amongst "decent" society.
The film begins with Harvey living in New York City, making sure that in the eyes of the world he was just your regular republican businessman.   Harvey seems to have accepted that he had to hide who he really was, that is until he meets young hunk Scott (James Franco).
While Harvey clearly prefers to be in control of all his relationships, Penn makes sure that Harvey comes off as lovable instead of domineering.   The truth is Harvey is a man who is a natural leader and much prefers to take care of other people instead of himself.   Even Scott knew it was hard to say no to Harvey Milk.
After falling in love, Harvey and Scott decide to run away together to (mostly) gay friendly San Francisco.   Once he openly immerses himself in the gay community, Harvey begins his amazing transformation from mild mannered businessman to outspoken gay politician and activist.
Not surprisingly, it was by no means an easy journey.   Fighting for gay rights meant that Harvey had to deal with enormous prejudice within the older and the gay communities and received several graphic death threats.
Penn is great at how he manages Harvey's fear.   While to the world he refuses to back down, alone Harvey clearly worries for his safety and accepts he might have to die for his cause. Where Penn really shines though, where I feel he was very deserving of his Oscar that year is in Harvey's many impassioned political speeches.   Amongst a sea of anger, Harvey begs his community to believe that even though it may not seem like it, good will eventually win out over intolerance.
Oscar-bait plot aside, Milk is a great film for many reasons.   It shows how far we've come as a society in our acceptance in gay rights (or not, depending on where you live in the world), has a great supporting cast including Franco, Emile Hirsch and Josh Brolin and the documentary-style of shooting adds another layer of realism to the film.   But in the end the film wouldn't be what it is without the vibrant energy that Sean Penn brought to a man who sadly died long before his time.