I know that (US) Thanksgiving is based on the colonization and degradation of indigenous people and the murder of innocent turkeys. Nothing has changed, in fact it has only gotten more blatant.
Currently Native American protesters are being drenched with water cannons in sub zero temperatures, detained in dog cages, and other inhumane atrocities in North Dakota defending their water, defending their people from the tyrannical American government. I see Barack Obama putting a medal of freedom over Ellen Degeneras' neck and cry at the nice words he says about diversity and being free and LGBT in our country but still in the back of my mind wonder why he hasn't tried harder to end the disaster in Standing Rock?
In Buffalo NY there are proposals involving a ban on conversion therapy.
I love the movie But, I'm a Cheerleader because it was a satire, it showed the absurdity of changing a person back to a "normal" sexuality. People are born gay, straight, transgender, and so many in betweens and there is nothing you can do to change their beautiful diversity. It is disgusting torture.
Mike Pence is pure evil, as are all of the white supremacist butt nuggets that Trump is putting into power. I heard today that he appointed several women, these chicks must really be groovy to align with the pussy grabbing cheeto hate monger.
What is happening in this world? The rise in rape and hate crimes will be monumental.
It is hard to give thanks when it seems the apocalypse is now. It is hard to just suck it up and celebrate, like nothing is wrong.
I have family members that proudly voted for Trump and I have to invite them into my home and share a meal with them. By voting for him you made life more dangerous, you voted for racism, sexism, and bigotry. You are taking away civil liberties and building a wall of ignorance and greed around yourselves. I am embarrassed to sit here and watch you choke on your white privilege.
Regardless, my dinner table is still going to remain all inclusive. Everyone is invited. It is a safe place for all people. Only love reigns in my home. I will fight your ignorance by educating and loving you.
I am thankful that (for the time being, who knows what dark fate is in store for us) I have freedom of speech, my art remains bold and uncensored.
I am thankful for my blood and extended family of activists and fellow free spirits.
I am thankful for my health, for my ability to change the world with my words, art, and voice.
I am thankful for my cats, their cuddles cure anything.
I am thankful for music, for riot grrl rants, for poetry, for the expulsion of rage into art and positivity.
I am thankful for other people's thoughts, for the ability to learn from my mistakes, to live with kindness and resolution.
I am thankful for our right to protest. No matter how bad it gets we need to stand tall and take back our world, letting them know that evil will not win.
I am thankful for this blog, Forgetthebox has allowed me to express myself freely for the world to read, I have gotten other opportunities and have made so many smart friends 🙂
Montreal- city of strange adventures. Random stories of our adventures included but are not limited to: A man wearing a full vinyl gimp suit with addidas sneakers. Then there was the masseuse wearing a leather jock strap and the best part is that he only spoke in puns, a dom who speaks in puns, he is now dubbed The Punisher.
My favorite moment was fat fuck poutine squirrel. I looked over to see just the ass and tail of a giant chubby squirrel sticking out of a garbage bag, he then pulled out a styrofoam container, hulked it open, and demolished the rest of a poutine, I could hear him eating, it was the cutest thing I had ever seen! The Leonard Cohen Memorial, all of the incredible street art, and a two story vintage shop with a vegetarian cafe were the other cherries on this cupcake of a vacation.
The Montreal Infringement Festival was incredible as always. I had a show everyday I was there. The Rusty Shuttle was an amazing new venue, I love the underground loft DIY artspaces of the world. Barfly was punk rock brilliance, I thoroughly enjoyed being sandwiched between two Folk Punk bands. Everyone in this city is so sexy! I couldn't even handle it.
I was honored to be part of the World Infringement Conference, my presentation was spur of the moment. We had planned on showing our art work, but unfortunately hanging did not happen, so I decided to turn my presentation time into a guerrilla art gallery. We donned our Pussy Riot masks and I talked about the beauty and necessity of free and accessible art.
The Buffalo Infringement Festival is an artistic Utiopia, a perfect climate for social change and exploration. We have no idea what Fringe is here.
I recalled a performance during last year's fest where a fire dancer named Clinton said to the crowd, "How many of you had your first show ever during infringement?" So many people raised their hands and clapped. I cried.
There are a zillion moments that justify why I volunteer my time with this festival, that was the one that will make me only work harder. To know that I am helping people express themselves for the first time, creating life long artists, adding to the collective culture of humanity.
Find things to be thankful for in spite of adversity! Be inspired by the wrong, make it right with your art and actions, protect the person next to you, make change in your community and globally, connect with others and join the revolution. This is how great punk music is born. Be the change and hold your head up high. Happy Thanksgiving!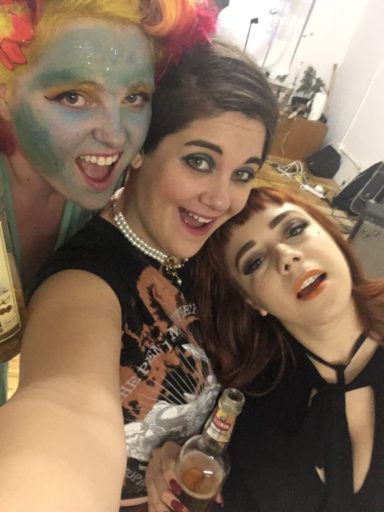 * Featured image by Agraive