There's a killer loose and you can help catch him or her, or at very least benefit from the murderous rampage with some good laughs and cheap shots, I mean bar shots that drop to $2 when the killer strikes again. Last night I caught (pun somewhat intended) Glam Gam Productions' latest offering, the self-described burlesque murder mystery If Looks Could Kill, They Will, which runs again tonight and tomorrow.
If a typical Glam Gam show is hard to describe, then this one takes things up a notch or two or twenty. You've got all the elements you've come to expect from this still relatively new troupe that audience member Soren Jensen refers to as his "preferred purveyors of perversion." There's raunchy wit, raw energy and a shit-ton of nudity (male and female), but If Looks Could Kill puts a new element in play: solid narrative.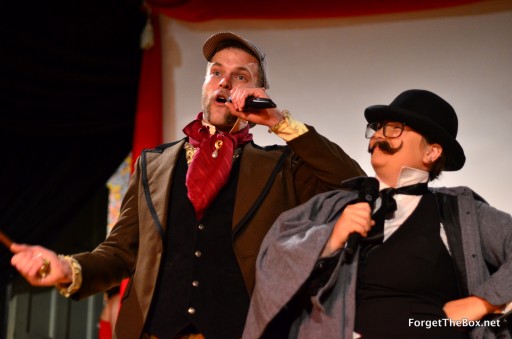 This is still a burlesque show, albeit an unconventional one, but it's also a play. There are guest performances, dance numbers and emcees. All of them fit nicely into a developing story centered around members of the Glamily getting killed off one at a time, as they prepare for a comeback show. The hosts, Sherlock Homo and Hotson, also serve as detectives investigating the crimes while guest performers fill in the gaps in the show when the scheduled dancers meet their untimely end. The dance numbers help progress the story and, in some cases, bring out some of the best comedic elements I've seen in a Glam Gam show, or any show recently.
Julie Paquet's flamenco "tap dance" number stands out as a prime example of what can happen when you forget convention and let dark comedy gel with sexy dancing. Meanwhile the show's opening and closing group numbers tie into the story by changing the lyrics to some well known tunes.
Glam Gam have done the song parody thing before, most notably for me at their recent SlutWalk performance, but this time around, it's louder, bolder and really catchy. This show also featured an operatic version of Closer by Nine Inch Nails delivered by singing telegram.
They've also used video in their shows before, but this time around, it's front and centre and moves the story from the stage to the upper backstage floor of Cafe Cleopatre, then back to the spotlight. In Glam Gam fashion, there's also an opening credits sequence that was leaked on YouTube leading up to opening night and was quickly removed. Maybe Google thought it was a little too cock-y.
This is the kind of story and show that pulls you in. I got pulled in, pulled onstage actually. I was the audience volunteer for hula hoop artist/in-character dominatrix Super Sherri's set. By volunteer I mean the guy who got to lay down while Sherri danced over me and put her panties in my mouth. Hmmm, getting to witness the show from an interesting angle and then get bought a drink by a really sexy performer for my "efforts" isn't that bad a gig, if you ask me.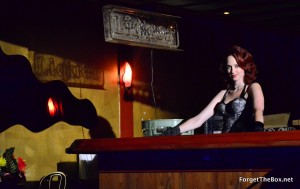 Audience interaction plays a big part in this show. If you're in the first row, you will get dirty and get up close with some of the performers. Anyone in the audience, though, can participate by guessing who the killer is. Is it sultry journalist Jizzika Unklean? Maybe it's the hilarious Booze Crotch, or could it be hot "French" enjenue and burlesque traditionalist Ellen Cherry Charles? Maybe it's the studly Milkman bringing a delivery of death or is is one of the sexy help? Or maybe it's even one of the troupe founders. Could it really be Paquet, Michael J. "20 minutes of cock" McCarthy or Sarah "Heeee'ssss deeeeaaad" Murphy?
I won't tell. But even if I did, it wouldn't matter, cause the killer changes every night. So do yourself a favour and catch one of the most original shows in town either at Cafe Cleopatre or when it plays in Toronto. You could say this show is killer.
Photos by: Chris Zacchia
For more pics visit ForgetTheBox on Facebook