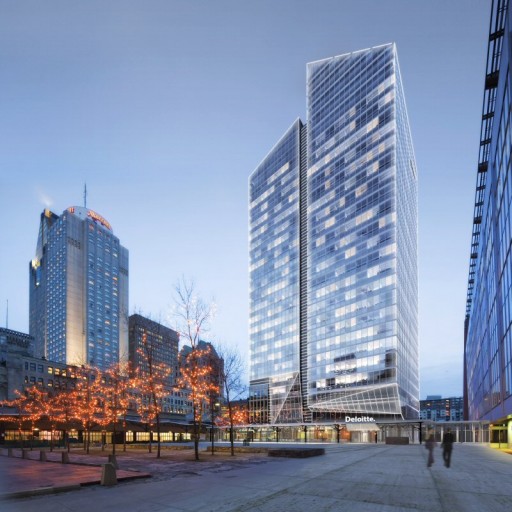 * This is the first of a multi-part series on the changing shape of Montreal's skyline. This series originally appeared on taylornoakes.com*
Montréal's skyline is about to change dramatically.
Within the next five years, barring some massive economic calamity, either locally or internationally, the following projects are expected to be finalized:
1. Altitude Montreal
2. Tour Viger/ Tour Aimia
3. TOM Condos
4. Ilot Overdale
5. L'Avenue
6. Tour des Canadiens de Montréal
7. ICONE Condos
8. Le Rocabella
9. Ilot Ogilvy
10. Deloitte Tower
11. Marriott Downtown
12. Tour du Musée
13. Le Peterson
14. Le Drummond
We're clearly embarking on a new cycle in urban architectural creation in this city, and as you might expect, as with all things Montréal, this too is a tad enigmatic. While other Canadian cities are being cautioned to slow down rapid expansion of single/double occupancy condominiums, Montréal seems to have been revving up over the past decade and is now poised to grow very quickly. Is this because we've been prudent with our development over the past decade? Or are we trying to play catch up with other Canadian metropoles?
Let's take a look at what's on the horizon.
To begin with, all that's mentioned above doesn't include several other major projects, such as the Superhospitals (all three of them), the idea floating around that St-George's Anglican Cathedral will develop the land immediately behind it (likely for condos) and everything being built in Griffintown, Ile-des-Soeurs and Saint-Laurent, nor any of the smaller, or perhaps just less visible projects throughout the urban core. Then there's the possibility Rio-Tinto Alcan may build a new headquarters next to ICAO, occupying a prestige position on the last vacant lot facing the rehabilitated Square-Viger. The rumour I heard was that Guy Laliberté was considering developing a circus museum and Cirque head-office in the architecturally significant Maison Alcan. Rounding out this short list of perennial maybes is the highly anticipated Waldorf-Astoria, which has been batted about for almost a decade, and is to occupy the parking lot adjacent to Tour Guy near Concordia, to say nothing of the on-going discussions for the redevelopment of the Bonaventure Viaduct Corridor.
*Graphics taken from original article on taylornoakes.com