Montreal is famous for its many landmarks and attractions. The nightlife, the Olympic Stadium, the Old Port, the Saint-Joseph Oratory, and of course, the Botanical Gardens. With over 21,000 species of plants, it is one of the most colorful attractions in the city.
In a landscape that has been overtaken by concrete and buildings, Montreal green spaces are coveted. While the Botanical Garden may provide some natural respite in the sprawling concrete, some residents have been reclaiming parcels of land so that gardens can be enjoyed by all without paying an entrance fee.
The double feature of an urban garden is that it is pleasing to the eye, and provides food locally. The coupling of limited green space and expanding green attitudes has given fruition to creative environmental projects.  Greening Duluth is a project of the Montreal House of Friendship. In 2009, they designed a scheme to, well, green Duluth avenue in the Plateau by transforming their parking lot into a garden.
Greening Duluth's  urban agriculture project has been hitting a sweet spot with city dwellers like  Donovan King, a Montreal artist and activist who moved to the plateau after living in the suburbs where spaces to develop a gardening hobby abounded.
King spoke to the CBC about the House of Friendship's garden. Listen to it here:
[mp3player width=250 height=75 config=fmp_jw_widget_config.xml file=https://forgetthebox.net/wp-content/uploads/2010/08/FriendshipGardenDonovanKing1.mp3]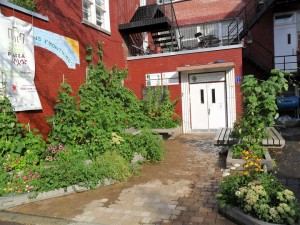 "This is officially sanctioned  guerrilla  gardening" said King. The garden has a  variety  of edible and ornamental plants and flowers, such as beans, cauliflower, strawberries, basil and more.  Picnickers  are welcome to enjoy and consume the garden on the re-done cobblestone and welcoming benches. An on-site compost container is ready to collect your organic waste – which is all recycled into the garden.
Montreal is host to a wide variety of unconventional gardening techniques that King discovered in his search for green spaces after moving to the city.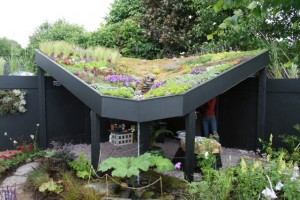 "People are gardening in  alleyways, on rooftops, ripping up asphalt to put gardens in parking lots. There's lots of options out there. You can do it perfectly legally and get a plot in the community garden, or more clandestinely like in the Mile End (where people are) reclaiming space to try to reduce the heat island effect," said King.
Covert gardening activities certainly have the appeal of doing something risky.
"You're  taking  things into your own hands, seeing something that clearly no one is going to be dealing with… then citizens come and crank open and few holes then the next thing you have a row of trees there and it looks great, so, why not?" said King.
During the summer, King and other local artists challenged the conventional use of urban spaces during the Infringement Festival, using alleyways for dumpster-dive art drives, and enjoying picnics in awkward places.    Redefining grey areas for use as a locale for nourishment and life is a logical step in an inclusive, environmentally beneficial way and is something King wholeheartedly supports.
"Overall, I'd hope this urban gardening movement continues to spread across the island. Montrealers should not be satisfied until every inch of usable land is transformed into a greenspace, whether it be in an alleyway, parking lot, on a rooftop, or elsewhere," said King.
Greening Duluth also hosts two weekly farmer's markets until mid-October this year. In the Mile End every Thursday from 4:30-8:30 pm at 5039 St.Dominique. In the Plateau every Friday from 10 am – 3 pm at 4265 Laval.