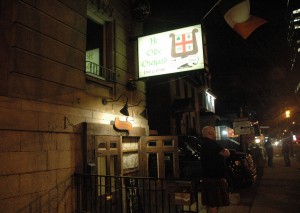 The funny thing about trying to get a playoff spot, it can be done in a manner where it wrenches a fan's heart, good or bad. Usually the Montreal Canadiens are known for clinching the spot on the last day. It becomes unbearable for me as I grow frustrated about how the season went and find them undeserving of the spot.
This year is different. Even when they have heartless streaks of games, they find a way to surprise everyone and go the extra mile, so I went the extra mile and hit downtown for their last home game of the season.
I was in good spirits heading to Ye Olde Orchard Downtown (1189 De la Montagne), I was all dressed up and ready to enjoy the game against Original Six rival and defending Stanley Cup champions Chicago Blackhawks. Ye Olde Orchard has four locations in Montreal, the downtown location is two blocks from the Bell Centre which means that hockey goers can enjoy some pre-drinking before the game.
I was on my own at the bar when a couple guys from the States where trying to pick me up before buying scalper tickets. I did my best to be charming and got a free beer out of it. Sometimes it can be a blessing and a curse being the lone girl watching a game at the bar.
I didn't care that night, I just wanted to make the playoffs with no worries. Glad I picked a friendly Irish pub known for great food, many TVs and a great crowd. Eats I recommend would be their capon wings (larger than regular chicken wings), burgers and Beef Stout Stew (very hearty when it's a cold day). The staff I find incredibly friendly and on that night, good looking. I swore my bartender looked like James Wisniewski however he was as cocky as Sean Avery. Big turn off.
This was a game both teams needed to win, Montreal could avoid being last-minute clinchers while Chicago could still compete for the eighth spot. They may be the defending Stanley Cup champs, however they paid the price for overspending on players in order to win by trading half the team, ex-Blackhawk turned current Hab Brent Sopel being one of them.
It was a goalie's duel that night, Carey Price setting the mark for most games played by a Habs goalie, playing his 71st game, while Montreal native Corey Crawford establishing himself as Chicago's #1 goalie playing in his home arena. Both were sharp until Mike Cammalleri scored for Montreal. The bar went nuts.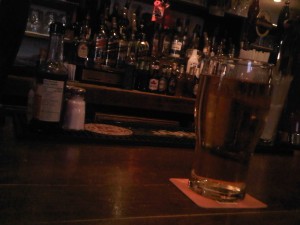 As the end of the season nears, all bars will be loud and excited, especially the ones near the Bell Centre, as more people start getting on the bandwagon. I explained to two guys what the game of hockey was all about, later they would ask me if girls dig hair pulling during foreplay. Word to the wise: beware of guys in pairs if you're by yourself. I also witnessed the Bell Centre crowd running back to the bar for a round of Irish Car bombs then running back to watch the game. Yes, it was that kind of night.
Patrick Kane would score for the 'Hawks as we entered the third period with Carey Price making save after save. I was having beer after beer; another word to the wise: speak up real loud if you specifically want a half pint. Chicago took 20 shots on Price, carrying the team into overtime. Now things are even more unbearable. Will an overtime point win or lose be enough to clinch? There's always a lot of math to process in order to qualify, who needs to win or lose or how many games.
PK Subban knew a familiar equation he's done 13 times this season. And that's what he did, taking a Kostitsyn pass and turning it into the most important goal of the season. Goal 14 for the rookie defenseman electrified the Bell Centre, the bar and the entire city.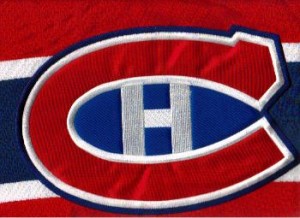 So now as we play the final game against Toronto, we wait to see where we finish in the rankings and who we play. Yes, there's more math. However, it was possibly the best memory of how we made it to the playoffs. I did get my heart won over at a fun Irish pub.
Shout out of the week: Here's an extra shout out to the important guys who hold the Canadiens together: the athletic training staff who   dealt with all the injuries from all the players this season. Shout out to Graham Rynbend and his staff as they were featured in a Gazette article by Dave Stubbs.
Photos by Cindy Lopez