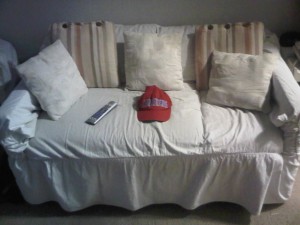 Sometimes when the chips are down, it's best to be in a safe warm place. I decided to stay home to watch the game against the Devils, as the looming fear over the Montreal Canadiens recent play had me worried about the inevitable worst case scenario…missing the playoffs. I knew they weren't going to do so in their up and down season, however ever since the Pacioretty hit a few weeks ago, they haven't been playing with heart and grit. And where there's playoffs on the line, this is not a time to lose confidence.
All they needed was to beat New Jersey and everything would be fine, a little breathing room against the other teams trailing us. Unfortunately, New Jersey has always been Montreal's weakness and with future hall-of-famer Martin Brodeur in nets, the situation doesn't bode well for their chances. This is why I chose home, it was familiar and less scary than some of the bars I've ventured to this season.
Alas, my home (and most homes) for a hockey night should be equipped with the following: a fairly decent couch to sit on and yell at the TV, a TV with one of the major hockey channels and beer in the fridge. I'm fortunate to have cable so I can switch from the CBC to RDS at my leisure.
Those less fortunate are lucky that the CBC now features more Montreal Canadiens games knowing that it's a waste to keep showing the Leafs. Then again, the Leafs have decided to go for a run for a playoff spot also, look out Montreal.
Mind you, home can also be there for you when you're too tired to frequent the bar or don't feel like spending the bar beer fees when the team starts to let you down.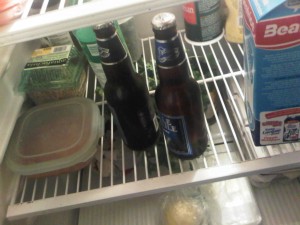 Strangely that night the Habs didn't let anyone down, filling in for Max Pacioretty was Mathieu Darche, a journeyman player who now has found a home in Montreal. Darche had filled the gap that Pacioretty would play and off he went with a goal in the first, assisted by former Devil and current Hab captain Brian Gionta. I think he feels at home each time he's playing in Jersey. Could someone say that to Scott Gomez, he was a Devil also, he did score during his time in Jersey.
The arena was filled with more Montreal fans than New Jersey fans. In most cases, Montrealers will drive down to arenas like Long Island and the Jersey swamp as they know that tickets are most accessible to these games than actual Montreal home games. It did feel like a home game as the rink was chanting the familiar "ole ole" when, in the 3rd period, Darche scored again a few minutes after PK Subban's goal. This was looking good for the Habs.
Thank God for that, everything was in sync, power play, penalty kill. Even Carey Price stopped a penalty shot from Devil rookie Mattias Tedenby. Not only did the Canadiens take the win, but they took away New Jersey's hope of making the playoffs. Eliminated right in their home rink. Sometimes home isn't where the heart is. Glad that Montreal has found their heart in their game. Let's hope they can do that for the remaining three games this season.
I promise for these games I will be out of the house, time to get off my couch.
Shout out of the week: Shout out to referee Bill McCreary retiring after this season. He has officiated many playoff games, holds the record for consecutive Stanley Cup finals (13 from 1994-2007) and has officiated the Olympics also. With the his familiar moustache and flip of the puck, McCreary was respected by both the players and the NHL.