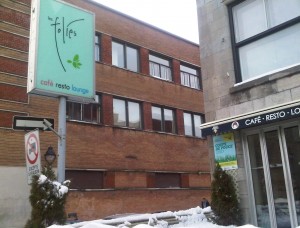 Ah, Sundays in Montreal. Normally a day of recovery from the night before. Sunday's a great day to get up late, go out for all day breakfast and chill on what is seen as a rest day, unless you're the Montreal Canadiens. Sunday was the 2nd of back to back games… in the afternoon. Not my favorite time to watch hockey, too early to drink or even think straight. However this was a tradition for this particular Sunday as the Habs always play an afternoon game before the SuperBowl game.
There is a positive to afternoon games, kids get to watch their favorite team at a reasonable time. I was around the Bell Centre earlier in search of my next viewing venue and was in awe of the many kids who were lucky enough to be there to watch Montreal against the New Jersey Devils. Let's see if the kids could bring some luck to the Habs, who were on a 3 game winning streak.
I had the energy of an excited child so I wanted to have a fun Sunday. I called a friend who was hungover and tired and opted for an adventure on Mont Royal Ave. Mont Royal is apparently a hot spot on Sundays. Couples and large groups are out for brunch and invading cafes. There had to be a hockey game to going on.
I started at Les Folies (701, avenue Du Mont-Royal Est), a resto/lounge known for their brunches and burgers, we made it in time for the start of the 1st period. We dined on juicy burgers while New Jersey filled up on a two goal lead early in the game. Les Folies had a retro feel with a modern tone, very chic for our meal but maybe too chic for hockey. I do recommend their burgers (I had the Mexican, my friend, the Gourmand which was a bacon cheeseburger with mushrooms). Take note PK Subban: good burgers on Mont Royal! I just wouldn't recommend it on game day. Those of you lost in the recurring burger reference, it goes back to this Gazette article.
The Habs were once again playing another back to back and were hoping to get the same results they had the day before; a shutout against the New York Rangers. Somehow for a team who is nowhere near playoff contention, the Devils always give the Habs trouble. Especially when Martin Brodeur is in nets. Carey Price may be many shutouts away from the legendary goalie but Brodeur always plays his best in his hometown. Well, that is until he bruised his knee, and couldn't finish the game.
We finished our meal and went to Chez Baptiste (1045, avenue Du Mont-Royal Est) a neighborhood bar known for a better hockey vibe. Even in the afternoon there was a great crowd, making this a day of sports as the Super Bowl comes after the hockey game. Chez Baptiste is one of many popular hockey hot spots on Mont Royal. My friend may have been hungover but won't say no to cheap pitchers of beer. Chez Baptiste has drink specials before 9pm every day of the week, but all day on Sunday. Perfect for any game night. I was excited for this place, also the minute I walked into the door PK Subban scored!
However that was the only goal for the Habs. The Devils are always trouble even without their future Hall of Fame goaltender. It wasn't our best game but it was indeed a Super Sunday afternoon on Mont Royal.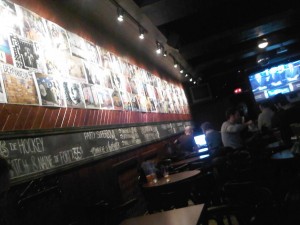 Shout outs of the week: Goalie fights, they are rare but it's fun to watch overly padded guys taking a swipe at each other. It would have been fun for the Sunday game too, Brodeur is big and asshole like, and Price always looks mad and ready to rumble.
Shout out to the City of Westmount for having many outdoor rinks this year, the indoor arena is always been there but it's been great for outdoor rinks this winter, glad that they are part of the great Montreal tradition.
Share your opinions on the Habs! Leave a comment below.