What of the healing power of Half Baked?
Well, before I saw them play at Esco Bar on Friday, I was coming down with an atrocious spring flu, green gunk and all.
Ill, tired, and a little sad and weak, unable to enjoy a cigarette without that awful smell caused by having a blocked nose (and yes, I need to smoke when I'm sick because it makes me fell better!); I was in desperate need of a shaman; someone to bring the energy back into my life.
Instead, I got the lead singer/bassist from Half Baked throttling himself around, kind of  like a madman–but it was good enough for me. In a matter of minutes my energy was restored. I was healed!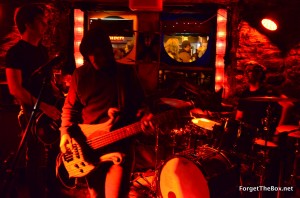 Formed as a high school project in Sherbrooke in the late nineties, Half Baked have produced six albums since their inception in 2001. Now based in Montreal, they're an ever changing line-up, a band that has evolved into what can only be called a mixing of brilliance and stupidity in off-kilter punk melodies.
Half Baked's music live is like listening to a swirling, downward spiral, of out of control ocean ideas, that never seems to be at the right place, or at the right time. "An oddity", "a never ending work in progress", "a good time", these are just a few short sentences you could say if you see them live in concert. Especially if you rare convalescing from a serious ailment!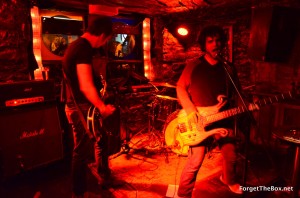 Before they took the stage, Half Baked left the crowd waiting because their bassist, Yann Godbout, had not yet arrived. He eventually showed up with a reasonable explanation–perhaps, the last bit of reasonable thought for the rest of the evening–he was detained by cops, or so he said. Quickly, he grabbed his six string bass and headed for the stage, and started screaming, moving and gyrating to his sometimes funky– sometimes punk music–sometimes electronic sound.
With there kind of wild punk style, it wasn't a surprise to find them late, or drunk, or falling apart on stage, because that is their act. The "Shtick" as we call it in the business. But it's a good one. It works well for them.
They played a few songs I recognized off their last album the Century Of Foam for your pleasure (2008), and a few I didn't, like the song about experimental states of intoxication or as Godbout called it "I am Drunk" which made the crowd swarm to the front.
The opening band, Right By Midnight was a trip back to the nineties (oh, how I miss it!), and if you have a chance please check out their new record on their website.
For more pictures from the show visit us on Facebook. Don't forget to "Like" us for chances at ticket giveaways, merch and other fun stuff!
Photos by Chris Zacchia