For our introduction to Half Moon Run read pt 1.
By the end of the set, as I sat silently on their jam space's sunken couch, I was genuinely blown away. Anyone who's experienced a Half Moon Run performance can attest to the fact that it's never been a question of talent and definitely never a question of whether they deserved success. All the pieces are in place. But in a volatile climate like the music industry, nothing is a given. The silver lining and what the three of them look back on as the highlight of their career, came last December. After hitting rock bottom and entertaining serious discussions about breaking up, the phone rang. And the coveted call came from Indica Records.

From then on, they were officially a signed band. Minor achievements and milestones have occurred since, such as a Quebec tour opening for Phantogram, a slot at Ottawa Bluesfest 2011, and the completion of a 27-day-stint of recording with Nimbus Studios in Gibsons, BC (their first album is on track for a January release). But their current position is one of insecurity and impatience.
As I said my goodbyes until the 5:45 show the next day at OUMF, they made a point of letting me know the show was probably not going to be a good one.
"I doubt anyone will show up other than our friends."
"A fifteen minute line check? I guarantee we'll sound at best 60%."
—
In the middle of OUMF Festival or what appeared to be a street fest on St. Denis, I stumbled on Half Moon Run's stage, where a small crowd stood far from the band, observing in a skeptical manner. Sadly, the skepticism was valid. The free show in the middle of the street came across as barely one step up from street performers and the members of the band looked entirely disenfranchised. Through the anxiety and obvious concerns over sound quality, the trio hastily finished setting up and waited for their leader to start the set.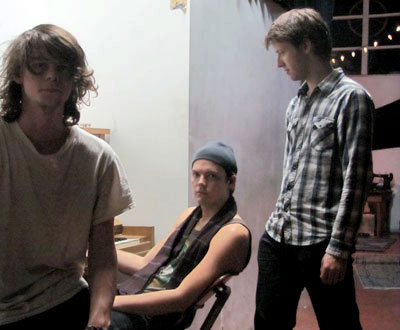 Devon let the opening atmospheric synth-effect of 21 Gun Salute ring out. Cue Conner's keys. Cue Devon's vocals. Cue Dylan's syncopated beat. And by the time Devon crooned, "I keep fucking it up and it's tough / maybe it's just because I'm out of luck", the audience members had undivided their attention and were officially captivated. Even if the music was only 60%, it sounded amazing.
With every song, the crowd grew and the support increased.
By Need It, a slowed down 3/4 ballad making its live debut, several hundred people had gathered around this random band on a small stage in the middle of St. Denis. Conner, out of elation, took to the microphone and informed them that it was the biggest crowd they'd ever played for. Then he pointed out their friend and mentioned the $5 CDs for sale (so what if they're just old demos featuring mostly songs they'd long retired?).
I happened to be standing next to their friend and within moments, during Half Moon Run's closing number, ironically titled Give Up, a swarm engulfed my formerly comfortable spot. Dozens and dozens of new fans waved cash until they had demos in hand. Then, the realization that every demo was sold out. At the conclusion of the set, Devon scampered backstage to bring out the last remaining demos in stock and within seconds, they were gone. All this amidst a thundering applause, an applause representing certainty. The skepticism from thirty minutes ago was now only a forgotten memory. A slew of girls caught sight of the band behind the outdoor stage and rushed over to demand signatures on the demos. Overcome with emotion and with frantically shaky hands, the band obliged.
This was a new high.
—
I remember once hearing Kurt Cobain speak about life in a rising band. He said that in his ideal world, every few months he would start an unknown band, rise to prominence, and then start over again.
Watching Devon, Dylan, and Conner's expressions as they were mobbed by groupies, sold out of demos, and cheered for by hundreds of new fans, I finally had a picture to go along with Kurt's quote. Someday, whether they make it big or not, Half Moon Run will look back on that performance as a highlight of their career, because forty hours a week, lost friends, no relationships, incomplete diplomas, and part-time jobs all culminated to this. And this, for the time being, was success.
Photography by Amelia Robitaille (meetuattheshow.com)