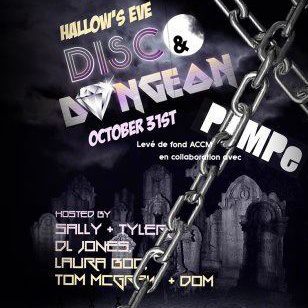 Yes!
This Halloween their is a big ol' costume party happening at Apollon/Katakombes (1450 Ste-Catherine), and the drinks will be deadly! (1.50$ beers & 2$ shots)
For the first time ever some of Montreal's best talents will be coming together to throw one hell of a party and raise some serious money for ACCM (AIDS Community Care Montreal).
Oct 31st 2012, Disco Dungeon takes over Apollon for a night of dancing, drinking and freaking.
For one night only Katakombes will be transformed into a haunted dungeon with shocking sights and fearful frights lurking around every corner. While Apollon upstairs will relive some studio 54 glory as dead celebrities take back the night and the dance floor. So be there dead or alive but don't miss Hallow's Eve Disco & Dungeon!
Music by:
►►B'UGO◄◄
►►THOMAS PROMISE◄◄
►►WHY ALEX WHY ◄◄
►►JNNBNNRCK◄◄
►►HEIDY PINET ◄◄