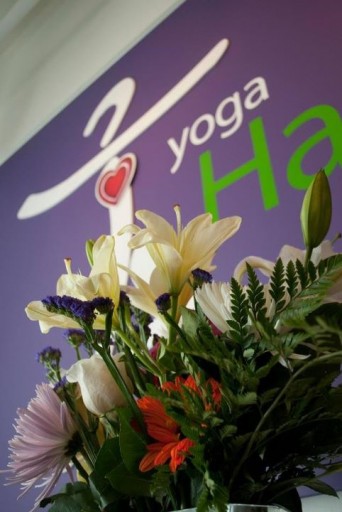 According to the Happy Tree Yoga website, HappyTree opened its doors by in the fall of 2007 with hope, heart, and a pot of tea that hasn't gone dry since…
That's true; I know it is, because I wrote that line, and because I was there that night. What you'd be harder pressed to hear is the tale of how studio owner Melanie Richards and I were sweeping up woodchips and ushering workmen out the back as we welcomed people in the front for our first ever open-house. Better still, you would never believe it if you were to step into the space today, drenched with sunlight (or candlelight), and ever-infused with our infamous homebrewed spice tea.
I am the HappyTree DeskGuru, and I am quite comfortable in my bias when I tell you that I love the joint.
Beyond the 30 weekly classes in various styles, aside from the massages and alternate therapies offered in our serene new Wellness room, way past the central location, and the luxuriously homey decor, lies a yoga studio built on the principle that even if people only intended to come for the yoga butt, they would find something much more.
In my unique position of fly on wall, I've seen students become teachers, cancer patients get well and countless friendships bloom over that same tea. And while we have turned out a bunch of lovely butts, in the same way that yoga as a proper whole is so much more than the postures, HappyTree offers community that goes way beyond its class schedule, you just have to come on in, and discover it for yourself. From clothing swaps to teacher trainings, I really believe that if you come in, you'll find something that screams "YOU" (or oms it softly in lotus, if that's more your bag).
So here's the plan:
Upload a pic of you doing your fave / bestest yoga pose to the Forget The Box page on Facebook.
Get your friends (or random strangers, if you can manage) to click the all mighty "like" on your photo (and on our page if they haven't already).
The person with most likes wins…..
Drum roooooolllll…….
A Five Class Card to HappyTree Yoga, and spankin' new yoga mat. That's a $120 value, for those keeping score.
Second place pose gets 2 complimentary passes for any drop-in class, so you and a buddy can come check it out and brag that you won stuff, because winning stuff, is always better than not.
So, let's play.
*The deadline is March 15th
*The contest is not open to HappyTree Staff or Karma Yogis, nor is it open to Forget The Box contributors.
Check the studio deets at HappyTreeYoga.com