Harlan Pepper, a young foursome from Hamilton, Ontario, are a shining example of why Hamilton bands are just so good. Dan Edmonds (vocals, guitar, banjo, keys), Jimmy Hayes (guitar, pedal steel, harmonica), Thompson Wilson (bass, vocals) and Marlon Nicolle (drums, vocals) make up this versatile group formed in 2008. They incorporate hard rock, blues, alt-country and folk elements into their sound and they are tight!
Recently having toured with Blackie and the Rodeo Kings, the band opened for LeE HARVeY OsMOND on Friday night at the Great Hall, playing to a sold-out crowd. They were well paired to LHO in that they played a selection of upbeat, groove along tunes that set the mood and pace for the LHO set that followed.
Their lyrics and songs overall, as well as their skill levels on their respective instruments, are really quite impressive for young men barely out of high school, a testament to the high level of musicianship that exists in Hamilton. And, they're fun! They ended their set with a tune where Dan and Jimmy played each other's guitars mid-song.  Looks easy enough, but it's not.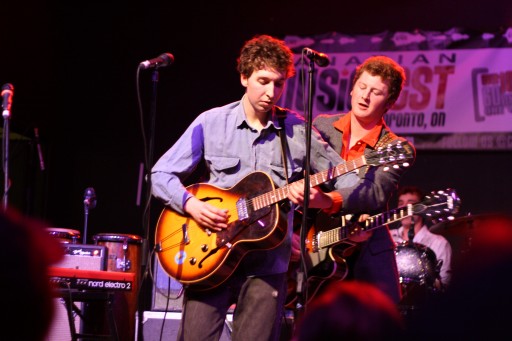 If you didn't know what they looked like, you'd think they were a band that had been around for years and years. Seasoned performers already, Harlan Pepper have shared the stage with the Sadies, Born Ruffians, Two Hours Traffic, the Arkells and Feist.  Keep your eye on these ones!
Check out this video for their song "Great Lakes," and listen to their cleverly woven lyrics:
Here's a clip from a show at the Legendary Horseshoe Tavern:
Photos by Stephanie Beatson, for more Canadian Music Week Photos check out ForgetTheBox on Facebook