Social media has been set ablaze following the news that Bill C-51, the Conservatives' so-called "anti-terrorism" legislation, has passed. The Conservative government intends to use their new legislative weapon to ban any BDS movement on the grounds of hate speech. I won't elaborate on that question here, since Jason quite eloquently did so in a previous article.
Obviously anti-semitism and BDS aren't synonymous. Many Israelis and Jews throughout the world are against the occupation and colonization of the West Bank and the illegal blockade of Gaza – does that make them any less Jewish? If anything, it would make them more human!
But what this whole debate underlines, once again, is that you can't consider yourself Jewish if you don't prostrate yourself completely at the feet of almighty Israel that can do no wrong – you aren't Jewish unless your every action is a perfect emulation of Israel's moves.
Support of Israel and Neo-Nazis in Ukraine
In this parallel universe that Harper, Netanyahu and Irwin Cotler, among others, have created, your "Jewishness" is defined by your support for Israel. Thus as long as you support Israel, all is fine and well. As long as you support Israel, you can even support, let's say, the Neo-Nazis in Ukraine, even arm them and give them training. You can send strategic advisors to the aid of notorious anti-semites such as Andriy Parubiy or Andriy Biletsky and yet still be anointed with the title of "biggest friend of the Jewish people."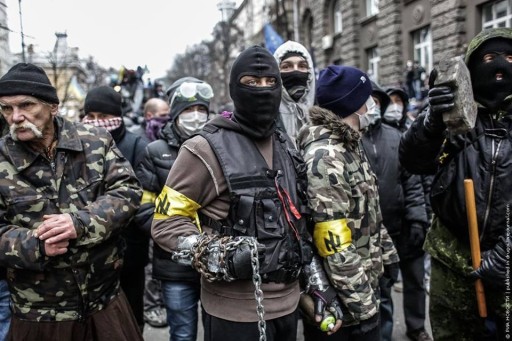 The hypocrisy of the Harper government has reached new heights within the past few weeks, especially after this government's megalomaniac decision to directly intervene within Ukraine's internal affairs. Defence Minister Jason Kenney decided to quell the rumours of the potential affiliation of Canadian troops with Neo-Nazi elements by issuing a statement refuting those claims.
But in issuing that statement, Jason Kenney proved his complete lack of understanding about the Ukrainian conflict or, at least, his intellectual dishonesty. It's interesting to see that Jason Kenney seems to know how to separate a "Neo-Nazi" from a "Non Neo-Nazi" better than the Ukrainians themselves.
The sphere of influence of Neo-Nazi terrorist outfits in Ukraine is larger and more powerful than ever and indistinguishable from the state apparatus. Neo-Nazi elements are present within every single major party represented within the Ukrainian parliament, within government, and within the National Security Council, which is the main actor through whom Canadian military officials are coordinating their operations in Ukraine.
Re-Defining Anti-Semitism
I guess being the best friend of Israel, gives you those sorts of benefits… Fighting against Islamic fanaticism on one side of the globe and supporting Neo-Nazi fanaticism on the other – that's Stephen Harper's foreign policy in a nutshell.
Anti-semitism has become a word that has been thrown around so much that it's become merely a tool nowadays – a rhetorical figure of speech to quash contrary points of view. Unfortunately, because of its over usage and conflation with any criticism of Israel,  the word has become devoid of its original essence, which is the hatred of the Jewish people, perpetuated by millennial racial stereotypes.
A year ago, this Conservative government organized the grandiose gala of anti-semitism in Ottawa and, with figures from across party lines, jointly denounced the "new anti-semitism:" a monstrous and preposterous new epidemic afflicting the world – the criticism of Israeli crimes against humanity.
This is the whitewashing of anti-semitism for political purposes, at its best. This type of whitewashing succeeds at doing exactly what it supposedly condemns: creating a racial stereotype and thus facilitating racism – in this case anti-semitism. In the universe of this new era of anti-semitism that comes in the drapes of criticism of Israel, Jews are seen to be a monolithic group: all support Israel, all support the illegal blockade of Gaza, and since Netanyahu said it a few months ago, every single Jew is against a two-state solution. As Steven Blaney said – at the time referencing the Qu'ran as justification for bill C-51 – "violence starts with words, hatred starts with words." May I add violence starts with misleading racial stereotypes and hatred grows through the perpetuation of those racial stereotypes.
Nazi propaganda pumped racial stereotypes and conglomerated Jews as one and the same. That is how hate speech was born then and how it is born now. In defining Judaism as supporting Israel, the Harper government and all those that abide to such a logic are instigating hate speech, promoting a false racial stereotype and should be convicted under the hospice of their new draconian hate speech laws.
תיקון עולם