Yesterday, the Conservative government put their 'money' where their words were, and officially joined the new coalition of the willing. As I write Canadian fighter jets have joined the mission in Syria and Iraq. The Conservative government is leading Canada into a war that they deem is a moral imperative, a war against the horrific evil of ISIS and their genocidal tendencies, and a war to uphold the values of humanity.
Given the razor thin lines drawn by this Conservative rhetoric, either you are for war, that is, in favor of a military intervention against ISIS, or you're giving a free pass for human rights to be trampled, or perhaps even worse, you are a de facto "ally" of the ideology which drives ISIS.
In Bushian terms either you're part of the "Free World" or you're part of the axis of evil.
I couldn't contain my profound amazement, uncomforting disbelief and utter bewilderment (and yes, I went through all of those states of emotion in merely five minutes; it was one heck of an emotional rollercoaster ride), as I heard our beloved Minister of Foreign Affairs John Baird, making the government's pitch for a military intervention, address the House of Commons the other day.
The centerpiece of his argument was, believe it or not, women's rights. Yes; women's rights. During his fiery intervention, John Baird said that 'his' Canada didn't sit on the sidelines while people were being massacred, blatant disregard for human rights was being done, and innocent women and children were being purposefully targeted.
In his words, it was Canada's ultimate moral duty to intervene, in order to prevent such things from happening. At the end of the speech, you got this feeling that this was a moment John Baird had long dreamed about. Surely, he had dreamt as a child that one day he would be the champion of the oppressed, of the marginalized, and the champion of those "lost causes" and that he heartfeltly would rise to the occasion and save Canada's honour, and in doing so also that of the world.
That would be great story, wouldn't it? Unfortunately, this is not a dream, this is a nightmare. The Conservative government so far has been a nightmare instilling terror into the hearts of thousands of Canadian citizens. When it comes to upholding human rights, women's rights, and minority rights, the Conservative government has done Canada, or at least the idea people once had of Canada, a huge dishonor.
No matter how imbued with beautiful lyricism the rhetoric is, mere rhetoric cannot change facts. The Conservative government may paint itself as the Fidei Defensor of women and women's rights all it wants, but that won't change the fact that more than 1200 Indigenous women are missing or have been murdered, and that the Conservative government has done nothing to prevent this systemic problem, because, in their words, it isn't a systemic problem whatsoever. If we were to apply Conservative logic here, than the Conservative government would be siding with criminals, rapists and murderers.
As the Conservative government stood-up, shouted, cheered and celebrated their mission in Iraq by high-fiving each other, what were they really cheering for? Were they cheering for the innocent lives would be saved, or were they applauding this historic decision, and the fact that, now, in some deranged egomaniac way, their names would be forever in books of Canadian history? Maybe they were applauding the idea that, after an awful summer and few months, this war would be their saving grace?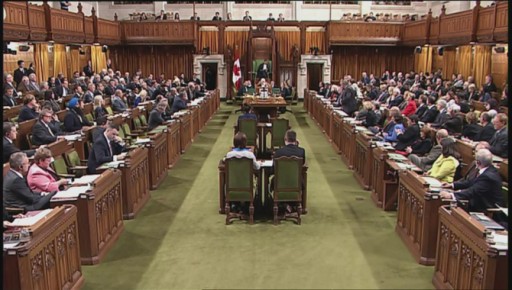 One thing is certain: this Conservative government will go down in infamy. If any of the joyous Conservatives thought that the vote on the war was "their historical moment", don't fret about it guys, you already have that covered! For hundreds of impoverished and marginalized communities, and the cuts this Conservative government have made to essential social services, will continue to strike terror in the hearts of many, even after this Conservative regime is long gone. For Indigenous communities, the blatant discrimination of this Conservative government has exacted upon them, will be a wound that Canadian society will have much difficulty in healing. For women, the assault Harper's administration has launched indirectly against their fundamental rights, is a terrorizing reminder that the misogynist ghosts of Canada's past are still alive and well.
So this is my little advice to this Conservative government. If you're really hell-bent on stopping "terror", in upholding human-rights, then you have two options. Either vote yourselves out of office or declare a war on yourselves. How can a government that has created such an environment of terror, claim to fight terror effectively on the other side of the world? The war on terror starts by looking at the person in the mirror. It starts right here on home soil.
A luta continua.