One of the heaviest music festivals in North America happened last weekend. Mike Gwilliam and Dawn McSweeney offer their impressions of some of the acts they caught on Saturday's edition of Heavy MTL.
Mike Gwilliam: Heavy MTL is, in my opinion, one of the best heavy metal festivals in North America and possibly the best in Canada. People from all over the world attend and with good reason. The two-day lineups have been rock solid since the festival's birth in 2008. While this year's line-up was criticized by many as being inferior to the previous year's (System of a Down, Manson, Slipknot, Deftones, Killswitch Engage) the festival has stated on its Facebook page that it simply tries to get the heaviest music it can without sticking to a single genre or sub-genre of the grand entity known simply as Heavy Metal. And with that said, it didn't disappoint.
Credo: If you see someone down, help them up.
DEVICE
Dawn McSweeney: All I remember is our group deciding in unison that they sucked.
MG: If you're a fan of Disturbed, you should like Device. I had seen Disturbed live before, but David Draiman, for some reason, just lacks energy here. Sad considering he can be a very powerful and clean vocalist.
HELLYEAH
DM: These guys rocked. Great crowd interaction, charisma, energy, toe tapping goodness. I plan to hear more of these guys on purpose.
MG: I was bored during this. I got more hell out of Gwar. This was more like heck.
HALESTORM
DM: I hate it when people get a chance in the spotlight only to prove the cliché. I was disappointed that the one chick on stage on Saturday was off key, crummy, and singing about how she "gets off on you getting on off me." Ick. People started chanting for GWAR.
MG: I love female vocalists in bands. Doesn't matter if it's In This Moment, Arch Enemy or Hanzel Und Gretyl. I love female vocalists. Halestorm impressed me. Lzzy Hale's legs were more exciting than Obey the Brave.
GWAR
DM: Holy shit. I was looking forward to the spectacle, and I underestimated what I was in for. Costumes, staged assassinations, bloodbath and uh, other simulated fluids. With all that, they could've easily let the music fall by the wayside, but they didn't. Theatrical, talented, worth it. I'd see them again.
MG: This was great live. Had a lot of fun watching them. I don't think you could ever be a fan of metal and dislike watching Hitler get torn to shreds followed by Jesus being crucified with "blood" squirting all over people up front. Awesome stuff. Would love to see the reaction these guys would get if they were to bring out an Osama Bin Laden, George Bush, Justin Bieber, Prophet Muhammad or Pauline Marois in future performances. Great music too.
BARONESS
DM: Chill, melodic metal. Who knew.
STEEL PANTHER
DM: I was hoping they'd be fun and funny, and they were neither. Plus, they sucked musically. Oh, and they think it's funny to call stuff gay, and they did a song about screwing 17 chicks in a row. And they did about 5 pointless minutes on their love of pussy. Fun fact: our group seemed oddly divided along GWAR/Steel Panther lines. I'm a GWAR girl.
MG: This was probably the most hilarious band I've ever seen. Steel Panther is not meant to be taken seriously. That's why they have a song called Asian Hooker. And they even ask the audience "who likes Asian hookers?" They made fun of themselves and audience members. Talking about how big the metal scene is and then saying "look, there's even a black guy in the audience." You don't go to a metal show expecting political correctness. Death to all but metal.
BLACK LABEL SOCIETY
DM: My vote for tightest, most professional show of the day. It truly felt like Their Show rather than a short set in a mega show. I was so impressed, I Googled them on the spot, realized it's Zakk Wylde's band. I remained impressed, but stopped being surprised.
MG: Didn't care for them. Went to get food. Some girl in line ordered 5 hotdogs and stuffed them into her purse. Hero.
AT THE GATES
DM: I remember them playing; they left no impression.
MG: Love Swedish metal. These guys were great. Would see them again. At The Gates were probably the most impressive band I heard at Heavy MTL. Their hard rock sound was a much needed change from the heavier droning sounds from earlier in the afternoon.
NEWSTED
DM: Fronted by Jason Newsted, ex-Metallica bassist, I really dug this one. Best bass, and sexiest metal of the day. I want to hear more.
ALL SHALL PERISH
DM: What a nice bunch of dudes! They genuinely thanked the crowd for being there, acknowledging that they were playing against Danzig, and they seemed legit flattered at the turnout they got. Great energy and showmanship.
A DAY TO REMEMBER
MG: What's with these scene-core like bands who are only slightly better than Brokencyde? I'd honestly would have loved Heavy MTL to just give Steel Panther more time or someone else instead of this group. The fact they got as long as they did was silly. The sound didn't seem right either. If these guys are bad on CD then they're even worse live.
MEGADETH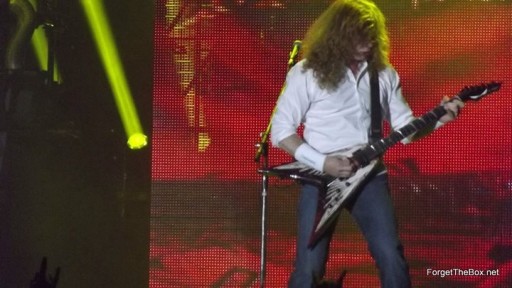 DM: With 42 bands playing over the weekend, and some notable folks including Ozzy's old guitarist, it seems pretty pompous to be the one band who needed press to sign an additional photo waiver. But Megadeth did it because, well, Dave Mustaine thinks he's special. I hoped his arrogance wouldn't affect the performance, but between songs they played movie clips that referenced the band. It was tacky and uninspired. I was disappointed. My Official Music Man, who's seen them 11 times now, rates this in their bottom 3 performances.
MG: I'm not a Megadeth fan, but I thought this was a good performance and should have headlined over Avenged Sevenfold. I was amused when they took shots at Avenged's basstech. Overall, they were good. Surprised they didn't close with "Symphony of Destruction," but good set, good energy, and a good show.
AVENGED SEVENFOLD
DM: Best thing I can say about them is that their guitarist rocks and deserves a better band. The young 'uns and the girls seem to love 'em. We couldn't bear it and bounced early.
* Photos by Jerry Gabriel and Dawn McSweeney, for more, check out the Facebook Album