The closer I get to 30, the more I realize I suck. Bars, shows, social gatherings of any kind – I loathe them all. But what I've grown to hate most is music festivals. I look back on the days of chugging early morning 40s of Sangrila in anticipation of a day full of mosh pits and outdoor shitters, and I'm truly repulsed. The dirt I'd accumulate under my fingernails and in my nose was a sign of a day well spent. I think I'd rather get trapped in a garbage truck than experience any of that ever again.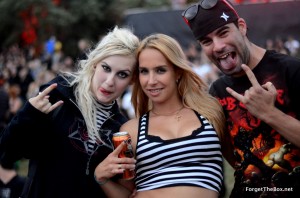 Yeah, I'm a cynic. I'm a baby. I'm no fun at all. Well, prepare to eat your words for just last weekend, I attended Heavy MTL. I'm not sure what convinced me to go. Perhaps it was the possibility of finally seeing one of my favorite weirdos, Rob Zombie, in the flesh. Perhaps it was the thought of enjoying Mastodon live again. Or maybe it was the media pass. OK, it was the media pass.
Aside from getting in for free, I didn't know what the pass entailed. I checked in, got my bracelet and walked around the grounds. The crowd did not disappoint. Freaks, total babes and men with ponytails mingled together to form a fun, welcoming atmosphere. It didn't seem like people were trying to one-up each other with their fashionable clothing or offensive headdresses. On that note, suck it, Osheaga.
Many of you no doubt know this but the location itself has very little grass. It's made up of dirt, Porta Potties, some food stands and trucks, and countless hot dog wrappers flying around in the wind. Pretty simple, definitely nothing fancy. Those who spend lots of time by either stage inevitably get caked in crud. Those who prefer to watch the show from the adjacent hill sit on their sweatshirts or blankets for minimal comfort.
I was told I was allowed to go backstage so obviously, I headed over there almost immediately. Let me just say, it was so luxurious that I momentarily forgot where I was. They have wicker furniture back there, guys. With cushions! I'm talking sectional outdoor couches right by the water, with really big umbrellas in case you need a break from tanning. I bought a rum and coke in a tall can because apparently that exists and I lounged. I lounged my fucking ass off.
When I had to pee, I didn't experience the line-ups you regular people do. I walked on the nice, green turf, around all the potted plants and flowers, and marched into a bathroom with toilets that flushed. Well, they sort of flushed. They flushed enough to impress me.
When I ate my turkey burger, I made crumbs like I always do because I'm a disgusting pig. But guess what? A guy came over right away and wiped my crumbs off the cushions. There was a designated crumb cleaner.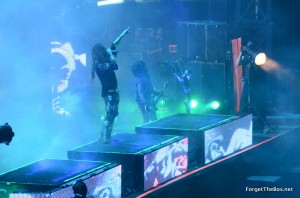 The whole thing made for an almost bizarre juxtaposition. Fans who paid good money for the festival are having the time of their lives in what is essentially a shithole, and the people who got in for free are chilling, paying zero attention to the big screen broadcasting whomever is on stage. To make it even stranger, when Rob Zombie's set ended, I went backstage again for one final beer and there was a DJ spinning house music. It made me uncomfortable.
The over the top contrast felt kind of surreal. Maybe I'm exaggerating; it's not like Danzig walked out and started petting and feeding kitty cats. It's not like Phil Anselmo was scolding someone for calling out his fart. Still, it's interesting to see how the festival is enjoyed in two completely separate ways.
Photos by Chris Zacchia