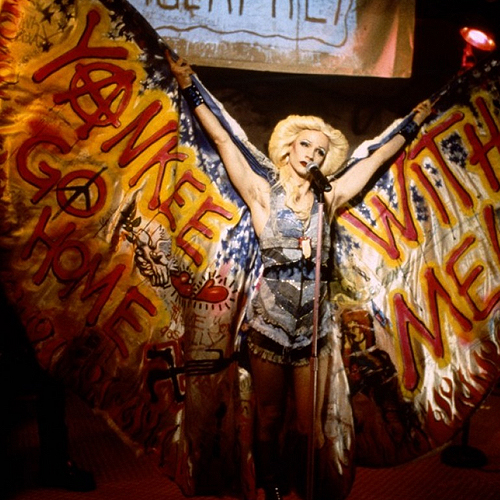 HEDWIG AND THE ANGRY INCH (2001)
Starring: John Cameron Mitchell and Michael Pitt
Written by: John Cameron Mitchell and Stephen Trask
Directed by: John Cameron Mitchell
Distributed by: New Line Cinema
91 minutes
If you happened to be at the Catacomb theatre last week for the Fringe Festival, you would have seen me sitting in the audience,  singing along loudly  to the stage version of Hedwig and the Angry Inch. I know every word to every song in the play about an East Berlin transgendered rocker because the film version has long been a personal favourite of mine. Screw singing orphans or Austrian nannies spinning atop mountains; no other musical I've seen has the raw emotional power or epic songwriting of this one.
Usually when you watch a musical, the experience is about losing yourself in mindless fantasy; a fantasy world where beautiful people express their love for each other by breaking out into song and a few dance steps. And while it's fun and entertaining, it doesn't mean anything. Hedwig is different because while it's thoroughly amusing, the writing explores love, individuality  and sexuality in a much more honest and thought provoking way.
Through each of the songs,  Hedwig (John Cameron Mitchell)  explores such issues as:  What does it mean to be a man or a woman?; am I meant to love a man, or a woman?; or  does true love even exist?
Some of my favourite songs include the upbeat "Sugar Daddy", in which impoverished Hedwig declares she'll do anything for the dream of a jet set life ("So you think only a woman/can truly love a man/well you give me a dress/I'll be more woman than a man like you can stand"), and the final number, "Midnight Radio", a power ballad about love, acceptance and being proud of who you are ("And all the strange rock and rollers/you know you're doing all right/so hold onto each other/you gotta hold on tonight).
While there are other characters in the story, it's hard to remember anyone except Hedwig. Indie bad boy Michael Pitt is perfectly cast in the film version as Tommy, the religious boy who becomes famous by stealing Hedwig's songs, but even he  then  disappears from memory the moment he leaves the screen. As self-involved and sometimes just plain crazy as Hedwig is, both the other characters in the film love her anyways – and as an audience member, you just can't help but love her either. She radiates fabulousness.
As the original star of the Broadway play and the star and director of the film version, Mitchell knows this character in and out. While I thoroughly enjoyed catching the Montreal production recently, only John Cameron Mitchell can truly rock your world as Hedwig.
It's a performance, and film, that you never forget.