What kills more than war? Dirty water.
What makes up the bulk of the Pacific garbage patch (you know, the one floating in the ocean that it three-times the size of Texas?)? Plastic.
What costs, on average, about 200% more than you should be paying? Bottled water.
What uses billions of barrels of oil per year? The bottled water industry.
Who is spearheading our advancement into ecological responsibility and better health worldwide? Hopefully you, with the help of Quebec universities.
From October 1-3, the Sierra Youth Coalition held their national conference at Guelph University. In a regional break-out session, all of the Quebec universities present unanimously decided to push for a ban on bottled water on their campuses.
By March 10, 2011, the second annual Bottled Water Free day, the Polaris Institute will be gathering as many pledges as possible from Quebec campuses who have decided that their environment, health and money were worth more than any bottling company could offer them.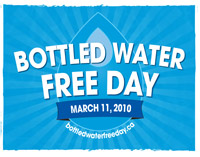 Several Canadian universities have spearheaded the effort. Bishop's became the first Quebec university and the ninth in Canada to go bottle free.
In schools where Pepsi and other drink companies have won the rights to be a sole provider of beverages on campus, water fountains have systematically been replaced by vending machines. A majority of the time, the bottled water you're drinking in poured straight from a tap. Fecal coliforms have been discovered in water from bottling plants, highly suspecting bad hygiene practices. Why are we paying for this?
There is less regulation in the bottled water industry than in municipal water treatment facilities. There is also the impact of transportation on the state of our roads ($$taxes$$!) and it doesn't do the atmosphere, polar bears and sensitive lungs any favors. There's the added horror of how infrequently people recycle their bottles.
Bottle after bottle after bottle.
Take Back the Tap, Tapthirst and the Polaris Institute are backing this effort up. Click on the links for more information and make your pledge to drink tap, fountain or with your own reusable bottle, rather than paying a company who only has their baseline profit in mind for something you inherently need.
The bottled water industry is also under fire from the government, who has recently terminated subsidizing the transport of small doses of water encapsulated in a byproduct of the petroleum industry. In an article posted on Capital News, Leo Doyle, manager for Nutrition North that cut the funding, said, "There is no place in Canada that our water system should be dependent on 250 ml bottles being flown in."
Author of Green Bean Tuesdays, Mel Lefebvre, apologizes for irregularly posting.
Ironically, it is because she is studying journalism intensively at Concordia University,
which leaves little time for quality citizen reporting.
Thank you for your patience, and check back here often.