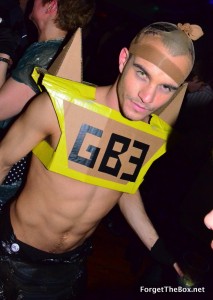 Waking up Sunday morning my head was filled with the images of tampon earrings, bubble wrap dresses and duct tape neck ties, one might guess that I was at a narcotics infused screening of Zoolander but nothing could be further than the truth. Like many others I was frolicking in the old port at the latest installment of GAYBASH.
Last Saturday there was only one place to go for those in the know and GB3 certainly did not disappoint. GB3 or GAYBASH 3 was the illustrious third anniversary of Tyler & Sally's wonderfully riotous parties as well as the events official opening at its new home Attic. The concept of this delightfully wrong party was Hawt Couture: Hobo Chic. A theme that GAYBASH's loyal patrons and performers took to with gusto. Some people just donned bits of rubbish while others took costumes to strange new levels, either way you have to love a costume party where more than half of the people actually dress up rather than playing "too cool for school". This led to some of the more entertaining encounters of the night occurring in the court just in front of the venue as costume clad revelers of GB3 intermingled with your standard night club crowd from Velvet which runs in the basement of the same building. Bystanders could well have mistaken the scene as a swarm of homeless junkies pestering Velvet's patrons, in its own way that was part of the evening's magic.
Attic resides on the third floor of the Auberge St. Gabriel building, and the name could not be more apt. It felt like forever as you worked your way up the mountain of stairs but upon arrival you are whisked away into a surprisingly large open wood space, filled with antiques and taxidermy animals. Costumes and crowd aside (though I could have had fun in silence) the set by resident DJ B'UGO had the masses losing their proverbial sh#t on the dance floor. At one point of the night (which some might say was the climax) a runway carpet was thrown down just off the dance floor and bullhorn in hand Ian Invincible commanded us to strut our stuff down it. Some seasoned veterans took to it like New York royalty while others rose to the challenge, it was a scene not often witnessed in Montreal and one I would happily flock to again.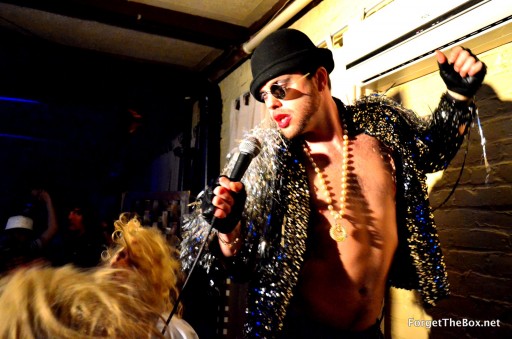 The highlight of the night for me was without a doubt the live performance of MSTR SSTR. This always rough and wild performer pulled out a polished set with dancers and special effects. To clarify, the designated dancers were the pair still not famous while there was a contingent of hot tranny messes who just couldn't let the limelight go and continued to jump in front of the stage improving moves. To the audience the entire thing seemed rehearsed, which only added to the spectacle. A rendition of Gay People (one of the new singles) was ended by clouds of glitter literally being blown from MSTR SSTR' s ass to screams of shock and joy, no one could have seen it coming.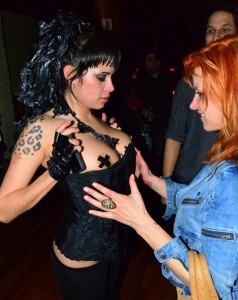 Tyler and Sally have come a long way from the days of dodgy after parties in miscellaneous lofts across the city and bar venues unable to cope with the madness they imagine and inspire. One can hope that Attic will prove an appropriate home for the future editions. Venue aside I wait with glue gun in hand for the next theme and hunger for more antics because GayBash never disappoints!
Photos by Chris Zacchia
For lots more scandalous trashyness check our more pics!