I now understand how long road trips can take a toll on teams such as the Montreal Canadiens, especially when there are a few weeks left in the schedule. I was covering the SXSW music festival in Austin Texas and did the drive down into the United States. The open road can be long and exhausting. That same week the Habs played a series of games, from a shutout in Pittsburgh to being shut out in New York City after playing the night before in Tampa Bay.
The United States via the highway can be quite the adventure. We passed truck stops and lots of fast food chains. We drove by cities known for minor hockey teams and passed by places like Columbus and Nashville who have NHL franchises and wondered how on earth these cities have teams. We also passed Dallas, home of the Stars and found out that even that team was on the selling block. These aren't really strong hockey markets yet they have teams. Winnipeg and Quebec are not pleased.
At SXSW I went in search of some hockey amidst large music crowds. Was there a sign of hockey in Austin? I can say this about Texas: they do love sports, especially college sports. On this trip I saw many football stadiums and hockey arenas. They do take those sports to heart the same way Montrealers do with the Habs (Montreal fans had a rally last week in support of injured player Max Pacioretty).
My heart hadn't been in the hockey spirit since the hit. We had the Halak game a while ago, I was going to be excited about playing against the goalie that took the team and this city on the brink to the final. However after Pacioretty it was hard for me to go back into game mode, same with the players. But good news, looks like he could be back during playoffs. Nothing can stop this guy, not even a cracked vertebrae. He is on Twitter now if you want to know if he's been watching movies other than Hall Pass. Check him out at @MaxPacioretty67.
My search for a hockey game ended on my last night as I found hockey in a place called Paradise. Paradise housed Canada House, home of the Canadian showcases during SXSW. I was not surprised that they had a hockey game going on.
On the way home, we stopped at another fast food joint showing the Texas/Arizona basketball game from the NCAA tournament or March Madness. I was astonished to see how people would crowd around a bar early in the afternoon yelling at a game. Then again, I do the same thing in Montreal.
At the same time, my enthusiasm returned. During the Habs road trip, the kiddies were up to some good. Ryan White had his first goal in the game against Minnesota, then a fight, then an against. Yes! Gordie Howe Hat trick!
It was a scoring affair, the Habs were scoring goals the same way they have been losing players. The highlight being PK Subban scoring his first hat trick (three goals out of the 8-1 affair against Minnesota). And yes, Alex Auld assisted also.
Road trips can be a strange affair. High scoring wins, horrible losses and a lot of takeout. However myself and the Habs can't wait to get home and keep the playoff fight going.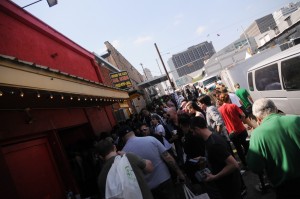 Shout Outs of the week: Shout out to the city of Austin for a great SXSW experience, everyone was friendly and there were many amazing shows and free drinks, lots of free drinks.
Shout out to anything in hat trick form, PK Subban's first hat trick, Ryan White's Gordie Howe hat trick. We ran out of hats, who knows what can happen next? Anyone else want to score 3 goals next?