After 82 games of practice, the real season starts. Welcome to the good old fashioned heart attack, blood and guts type of hockey. All teams have a clean slate, doesn't matter if your team was the best all season or squeaked into the last playoff spot, it's who can beat who for the Stanley Cup.
The Montreal Canadiens play the Boston Bruins in the most anticipated match up. So what should you fans anticipate in this year's playoffs and where should you go for the games? Here's a guide for all your playoff needs:
1)All bars will be showing the games. Anywhere in Montreal that has a TV will be showing hockey so no scheduling anything on game night. Hockey is so important that they moved the French federal election debates for it.
2) Make sure to show up one hour to 90 minutes early for a spot. If you have a friend who can hold seats for a couple hours, you better buy that friend beer. Also, it falls into the happy hour time slot, so cheap beer.
3) Scott Gomez better produce for Montreal or this is how one wastes 8 million.
4) If the Vancouver Canucks can beat the Chicago Blackhawks, then we can talk Stanley Cup favorites. PS, I still don't understand Vancouver Canucks hockey.
5) If you want to check out a bar that's downtown and close to the action check out Irish Embassy, Mckibbins, Cage Aux Sports, Ye Olde Orchard Downtown and McLeans. All food is decent. All links are to reviews I did all season.
6)I'm a sucker for beards so the more rugged, the better. There will be no Sidney Crosby stache this year unless he's back from his concussion. Why don't you get a marker and shade it in or opt for Patrick Kane's Mullet.
7) Washington will continue being the San Jose of the East while San Jose could pull a Chicago or even a Detroit.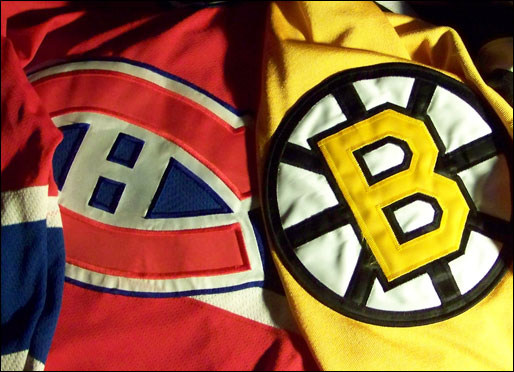 8 ) Montreal's strength against Boston is in special teams, so make sure Boston takes stupid penalties. Hurting Chara will be tricky, however it would be cool to see a 6 foot 8 man brought down by a tiny Hab.
9) Boston's strength against Montreal is defense, they're all healthy. Hope that Sopel and Wisniewski can fill in for Markov and Gorges.
10) If you want to check out a bar with a great hockey crowd go to Taverne Chez Normand, Nacho Libre, Chez Baptiste, Bar Laurier and Cafe Romolo. Only in one out of the four do hipsters outnumber fans.
11) Don't put more pressure on Price by reminding him about what Halak did last season. Price has proven himself, if he can't go further than Halak, don't chase him out of town.
12) If the Habs fail in their bid, then I blame crazy fans with the expectation that every Spring we can party on the street and riot. When was the last time any NHL team defended their title? The Cup is up for grabs, no real favourites.
13) If you're looking for a bar with cheap beer then check out Bar Bifteck, PJ's Pub (who says no to a 4 litre pitcher) and Romolo's two beer/plate of Nachos deal.
14) This is the playoff year for goalies, all with hot hands and something to prove.
15) I'm watching you carefully Andrei Kostitsyn, your brother Sergei is no longer your excuse for failure.
16) If you're looking for a bar where you're least likely to find bandwagon fans and you get to watch playoffs in peace check out Bar Laurier, Le Courtier, Next Door, Chez Baptiste or Le Cherrier.
17) Prediction time: Habs will take the series to 7 games, it's a toss up on who will win. It depends on which Montreal Canadiens team shows up. It better not be the one from the 7-0 game. Max Pacioretty won't approve of this. Nor will half of Montreal. Boston is playoff-ready.
18) Stanley Cup final prediction: Vancouver might actually be ready to win one, the surprise could be in the East ( my gut says a team that finished lower than 5th).
19) Let's pretend that Montreal has a good chance, PK will repeat what he did all year, more triple low fives for all. If the Habs want a reason to win other than for Pacioretty, it's Kirk Muller's last year on the Habs bench. Shout out to the BBQ with Kirk Muller group.
20) Lastly, if the Habs play for 6 weeks or 6 games, one thing always remains the same: there will be beer.
Game on!
If you want more bar suggestions check where I went all season on the Hockey Blog.
* Video by Liam Chapman