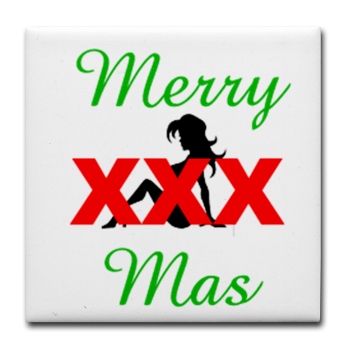 This holiday season, give the gift of pleasure to that someone special in your life. After all, a sex toy is the gift that keeps on giving… at least until the batteries die. Lucky for you many modern toys are equipped with rechargeable batteries.
With the vast array of options, the thought of buying a pleasure object for someone else can be a bit intimidating, so here are a few fancy little fun things I whispered in Santa's ear for myself that I imagine would also intrigue any foxy adventures females out there.
If she's a moody missus in the morning
My favorite thing about sleepovers is I'm often lucky enough to be roused in the most arousing way possible with pleasure!A few orgasms before breakfast is enough to put me in a good mood, at least until I have my face squished into someone smelly armpit on the cramped bus ride to work.
And now you can start the day off right with the Little Rooster, a tiny vibrating alarm clock that wakes you with sensual pleasure. Banish the blaring beep from your morning routine and replace it with one of the thirty different settings this toy has to offer.
The Little Rooster is designed to fit the curve of a woman's pubic mound. It features a wide flat head about the thickness of an iPhone and a vibrating leg that is designed to stimulate the clitoris and labia. It slips easily inside your underwear, gently clamping on your pubic bone with no part worn internally.
It is composed of phthalate-free materials and comes with a no questions asked money back guarantee for the first 30 days. Another key feature of the Little Rooster is the rechargeable battery which lasts at least two hours, or the equivalent of at least 10 hits of the snooze button.
If she's a die-hard devotee to Team Jacob:
With all the overlap that exists out there between fantasy and erotic fiction, somehow it doesn't surprise me that there's a company out there making silicone werewolf dildos. But you still have to see it to believe it.
Bad Dragon can make all your dirty dungeons and dragons fantasies come true with their very unique, ultra customizable line of silicone toys. From David the Werewolf to the Tentacle to Chance the Stallion (who comes flared or unflared), the toys are all available in a variety of sizes and colour choices.
Add-ons include different levels of firmness. Say you want a very firm shaft with a more pliable head, you've got it, as well as an insertable cumtube. That's right, if you want to pretend to be the big bad wolf blowing your load in little red riding hood, then it sounds like you're going to have a very merry Christmas indeed.
If you're a tantric twosome:
One new toy getting some of press this season is the Canadian-made We-Vibe 3. Unfortunately I have yet to try this one personally, but the idea is very intriguing. It's a small U-shaped toy designed to be worn internally during intercourse. It features an internal vibrator to stimulate the vagina and G-spot, working in tandem with the external vibrator that tickles the clitoris. Its soft, flexible design holds the toy in place, allowing plenty of room for thrusting and shared vibrations.
The latest incarnation of the world's most popular vibrator for couples features 40% more enjoyment power and a remote control to change between its six settings. Like its predecessors, the We-Vibe 3 is waterproof and includes a wireless charging base that provides up to two hours of play on a single charge.
The We-Vibe 3 comes in three different colors and retails for $159.
Photo credit: escforevermedia.com