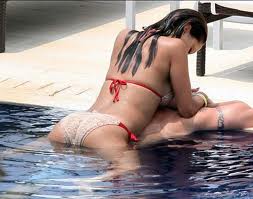 Now that the long-forgotten snow has melted and flowers poke their brightly-colored blossoms out from the unfrozen ground, it's time for all of us to come out of hibernation to peel off all those layers and head outside to play.
When it's 30 below, we yearn for these when you can once head outside in a thin cotton dress with no other plan than to just walk around and absorb some vitamin D, hoping to spot a few bronzed shirtless boys kicking around a soccer ball in the park. Seriously, after making it through yet another winter, we've really earned this summer, so why not enjoy the benefits it can bring to many different aspects of our lives?
Relationships, like seasons, go through cycles. Inevitable ruts develop, and the longer they last, they harder they can be to break ou of. You wouldn't eat the same meal every day, even if it is the most pleasing to your taste buds. Take advantage of the sultry swagger of summer by spicing things up in the sack.
1 Gonna Make You Sweat
Let's face it; sweating during sex is inevitable, especially given the balmy humidity of midsummer in Montreal. Morning, noon or night, just walking around gets me covered in a layer of my own pheromone-laden dew… imagine the benefits it can provide during sex!
So close those windows, turn off that AC and turn the bedroom into an all-out sweat-fest. The heat will relax your muscles so you can try some of those crazy positions you've been plotting in your head.   Nerve's got a great app for that.
2 Road Trippin'
Getting out of your element can be one of the best ways to invigorate your sex life. Take advantage of the sunny skies, open roads and beckoning call of adventure. Visit a new city you've always wanted to together, or spend the weekend camping in the woods. Sex under the stars can be an unforgettably romantic and erotic experience.
Plus, there's always an opportunity for mischief in the car (or, for the exhibitionists in the bunch, the bus) on the way up. Take turns seeing who can get each other off before you pass the next rest stop… just make sure you're on an open road and you don't go too fast.
If you're truly unable to get away, you can always kidnap your partner, crash a swanky hotel for the afternoon and pretend to be on vacation. The Hotel de la Montagne downtown has a magnificent rooftop pool where you can sip sangria and enjoy the view of the city.
3 Cool It Down
When things really start to sizzle between the sheets, cool it down a notch with a well-timed spritz from an icy cold spray bottle. Or, pop a bottle of lotion in fridge and give your partner a cool rub down from head to toe.
For the daring and slightly masochistic ladies, try a frozen banana, icicle dildo or putting a glass or steel one in the freezer. After your partner ravishes you with it, they can penetrate you and enjoy the contractions you'll experience from the extreme temperature change.
Photo credit: http://www.thehollywoodgossip.com/gallery/pool-sex/