Another middle of the week game, another bar search for the Habs game. I decided to trek out of my element and go into unfamiliar territory. I knew the minute I hopped onto the crowded 90 bus, this was going to be an interesting night. I don't know where I am, but wherever I am there is a hockey game going on. Heading west on the St Jacques strip: known for no tell motels, quick eats for truckers and the only bar in the middle of no where.
I knew where I would end up, at PJ's Pub (6910 St Jacques W), deep in the outskirts of NDG.
The minute I walked in I was in shock, the interior was twice as spacious as the exterior. Appearances are deceiving. Luckily I wasn't doing this alone, I was with a gang of friends on this hockey adventure.
The Canadiens, riding high from a solid November, were up against a young and fast Edmonton Oilers team. Currently celler dwellers in the West, there is hope that this up and coming team can mimic the success of Pittsburgh and Chicago: rebuilding a once proud team with draft picks and sub par goaltending. Fans are hoping that the likes of Taylor Hall, Jordan Eberle and Magnus Paajarvi can be the next Gretzky, Messier and Lowe (GM Kevin Lowe donated his old playing number to #1 draft pick Hall this year).
We'll see what these rookies can do in the future, in the meantime Hall just got stopped by Carey Price.  Price is continuing his consistent play and just shaved the mustache. Thank God it wasn't a lucky mustache.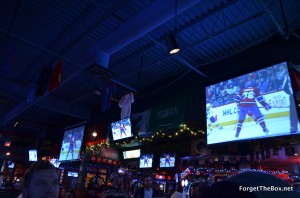 Meanwhile, I'm riding high on the fact that everywhere I turn there is a TV in my face. Dozens of big screen TVs circled the bar so we wouldn't miss any action and goals (I did miss the Gomez goal due to lateness but was told it was a sort of tap, he did touch it however).   Darche was back scoring but no luck for Pouliot as he's been streaky of late, and he ended up as a bench warmer towards the end of the night.
Glad to be warm inside after fighting December sleet, PJ's has to be the most obscure bar on the strip, nearly impossible to get to, yet it accommodates to all types of sports fans. It was full for a middle of the week game and the beer and pub food were super cheap. It was the standard burgers and nachos type grub but the kicker was the 4 liter pitchers. That's right, 4 liters. A friend remembered I was done with my month of no drink, this was my welcome back to the drinking lineup.
We almost lost Kostitsyn when he took a puck to the knee, he's ok but the game was still in play and he was rolled and pushed off the ice. We got a good laugh out of it but was glad he will play next game.
It was an interesting night for the Defense, it was Spacek's 600th game, Hamrlik's 150th goal and 600th point. Unfortunately you couldn't say much for the rest as Josh Gorges sat on Price and PK Subban's extreme rookie mistake led to the Oilers knotting the game at 3 all, and off to overtime we go.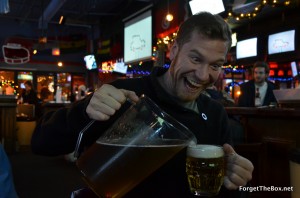 Great, more 4 liter beer pitchers. I know the beer is cheap, but I wish that the quality was better.
It was going to take more than beer to rid the bad taste in my mouth as Dustin Penner scored in overtime and gave the young lowly Oilers a boost in their confidence. Oilers 4 – Montreal 3.
This has happened a few times where the Habs scramble a lead and lose to a celler dweller. Embarrassing. To be a fly on the wall, to hear the conversation that Coach Martin gave to the team post game. Or to be that same fly in the ladies room at PJ's as strippers engage in conversation before and after their shifts at Amazones strip bar down the road.
Told you it's a shady part of town. It was indeed an experience, friends were drunk and getting into a snowball fight in the parking lot. Glad someone brought the car, getting there isn't a problem but it becomes another adventure trying to get home.  A little out of the way but PJ's does attract a good hockey crowd.
I'm curious what their crowd will be like for the afternoon game this Saturday. Be sure to see the light in the seediness of the St. Jacques strip.
photos by: Chris Zacchia