If you're reading this website, there's a pretty good chance that you're a supporter of the student movement.There's also a pretty good chance that you encounter, in one way or another, people who aren't.
It can be really frustrating to read the comments of, and worse, to talk to people who call the movement whiny, entitled, destructive etc.
Really frustrating…
But it's important to remember that most of the people who are virulently, or oven mildly against the protests don't have a complete understanding of the issues or how the students and supporters feel about them.
How could they?
Coverage is often biased, and almost never gets to the heart of the issue. The why of it all.
Positive blog posts, press releases and even news stories (as few as they are!) don't serve to correct the misimpressions that people have, or deal with the reasons they have them. And the negative ones tend to rely on generalization and empty rhetoric.
Minds aren't changed, generally, by mass media anyway. They are changed by conversations.
One person leaving a comment on a news article won't likely make a difference in the way someone else thinks.
One person having an open and honest discussion with another, however, can.
So if you have people in your life, siblings, parents, in-laws, relatives, friends etc. who are against this movement, I urge you to talk to them.
And when I say talk, I don't mean shout your ideas and them while they shout theirs at you. I mean really talk. Really listen.
Really try to understand and give understanding.
Get deep into the why, and find a place between you where solutions can be created.
Here's one way how…
Do Your Homework:
First things first, it's important to have an idea of who you're going to be talking to, and where their information is coming from.
An uncle in Calgary who watches and reads local reports is going to have a different understanding then an Ontario in-law who occasionally tunes into CUTV. Try to get an idea of where their biases might be, so that you can address them.
Second, it's important to be aware of your own biases, and be absolutely dead set on why you support the movement. This is not the time for wishy-washiness, or one-off statements about tuition, democracy or police brutality. All are important issues, but you have to be ready to soundly back up your reasoning.
There are, of course, dozens of reasons to support the movement, and the intricacies of each are more different still. Be prepared with statistics, excellent logic and a willingness to hear some frustrating, even insulting things.
Don't Do This: "It's important for students to strike because the tuition hike is totally unacceptable, and the government is fascist!"
Do This: "I feel obligated to make my voice heard on the issue of tuition hikes because I believe the provincial government circumvented the proper channels and debate that should come before raising tuition. I also feel that paying more upfront for my education instead of paying it forward later through taxation places an unnecessary and unfair burden on me when I'm trying to make a start in life."
Got it? Practice this.
Some wonderful sources for talking points are the Ten Points Everyone Should Know About The Quebec Student Movement by Andrew Gavin Marshall and An Open Letter to English Canadians by Daniel Weinstock. These are also good places to direct people to after you've opened the dialogue, if they want to learn more.
Time for the next step.
Opening the Conversation
Start things off on neutral territory. Don't just ring up your Uncle Milton and say: "I want to talk about the student movement."
Ease into it. Talk about non-controversial things first. How are you doing? Been fishing lately? Did you catch that local sports game? Will I be seeing you at Jenny's wedding?
Have a nice, pleasant conversation for a few minutes, taking care to talk about things that your conversation partner likes and feels positively about, and, if possible, emphasizing the relationship that you have with each other. After a few minutes, it's time to swing the conversation around to the student movement.
Finding a Place of Mutual Agreement
People like to agree on things. It makes us feel happy and connected.
Even in the cases of the most diametrically opposed viewpoints about the student movement, there will almost always be things you and your conversation partner can both agree on.
Ask them to start first. "So, Uncle Milton, what do you think about all of the craziness happening in Quebec right now?" Generally, this is all it will take to start them going.
Be prepared to hear some unpleasant things. Things that are insulting, or that you find stupid and pigheaded. Be calm. Do not engage with counterarguments right away.
Instead, listen carefully to what they say, and find something you can agree with, however small.
Some examples might be:
Property damage is terrible.
It's important to stand up for what you believe in.
It's a shame that people's studies and lives are being disrupted.
Politicians can be dishonest.
Education is important.
Taxes are too high and improperly used.
Tell them: "I agree with you that [point of agreement], but, I can see another way of looking at it too. May I tell you what I think?" Get verbal agreement that they are willing to listen to you.
Asking them for permission to express your view, and phrasing it in terms of your opinion will make it harder for them to interrupt or dismiss you later on. Then go on to address a point related to the thing you both agree on. Keep it short, simple and to the point.
Some examples might be:
It's not about tuition, as much as it's about debt. Students in Quebec are refusing to accept a higher debt load early in their lives, and that's a position I respect.
I feel that education is an excellent use of tax money, and if revenues from taxes were used more appropriately by our governments, we would all benefit from lower prices.
Quebec Students do pay the least in tuition. I ask myself why students in other provinces don't agitate for the same – graduating university with a lot of debt makes starting a life much more difficult.
Saying that all protesters are violent is very much like saying all men feel superior to women. Sure a couple might, but I don't think it's fair to make generalizations of that sort.
It is unfortunate that the lives of people in Quebec are being disrupted by the student movement, but I feel that when a citizen feels something is wrong with their government, it's their responsibility to make that view known.
I don't think every tactic employed by the student movement has been the best, but I believe that, at the root of it, they are right in what they are doing.
These are openers, there's probably room for another sentence or two explaining what you mean and think at this point, but don't go on too long. Keep it to one central idea, and be sure to use "I" statements. I feel. I think. I believe.
There are tons and tons of different ways you can do this. The important thing is to acknowledge where they are coming from, and then bring forth your idea on the subject in a way that is difficult to disagree with.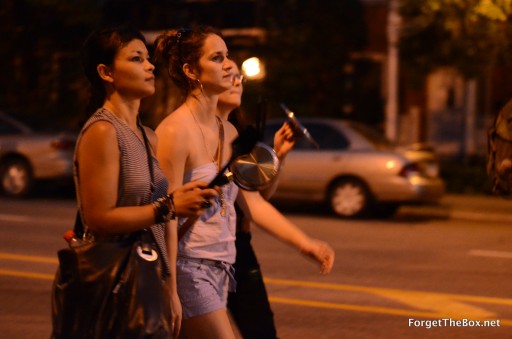 Continuing the Dialogue
Then, ask them what they think about what you said. This will lead to, probably, another difference of opinion, that you can again respond to. Always be polite. Always listen carefully, and acknowledge what they tell you. Never say things like: "That's wrong! That's ridiculous! I can't believe you think that!" even if that's what they say to you.
If they tell you you're being naive, or ridiculous, ask them why they think so.  Then explain why you feel you're not.
Repeat.
Every time you make a point, ask the person you're talking with to respond to it directly. Listen to what they say, and answer accordingly.
It's important for both of you to be talking the same amount of time, and very important for you to always acknowledge what they say, and try to understand why they're saying it.  Remember that you have things to learn here as well.
Exit Strategy
Continue this process until a) you come to a second place of mutual agreement (hopefully a new one!) or until you or they can't take it anymore. Don't let things degenerate to empty rhetoric, yelling, or platitudes.
If you reached a new place of agreement, for example if you've gotten your conversation partner to agree with you that Loi 78 is unreasonable, when before they didn't, say something along the lines of: "Thank you so much for talking to me about this. It means a lot to me that we can have this kind of conversation." Then change the subject to something neutral.
If you feel things have gone on long enough, or you feel that the person you're talking to is ready to smack you, say something along the lines of: "Thank you for talking to me about this. I appreciate hearing your viewpoint. We can agree to disagree, but I feel like I understand more where you're coming from."  Hopefully they'll say something along the same lines. Then change the subject back to something on neutral ground.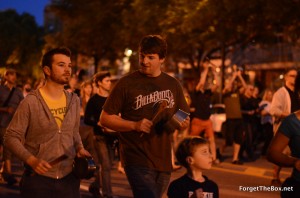 If at all possible, you want to end on a positive note, leaving the door open for more discussion in the future.
Are you going to completely change anyone's mind? Not likely. And that's okay. It's important for us to have different viewpoints, and for those viewpoints to be respected.
The goal of this kind of conversation is to keep open lines of communication between people with very different viewpoints, and try to ensure that there is at least some level of understanding going both ways.
It's much harder to generalize an entire movement as "entitled brats" when one of those brats has taken the time to carefully explain the reasons and logic behind their actions and viewpoints.  It's also much harder to write people against the moment off as "unthinking morons" when you've taken the time to learn why they think what they do.
Two ideas at opposite ends of a spectrum can rarely find peaceful middle ground. But a wide range of ideas, informed by empathy and dialogue, can find ways to work together.
At the end of the day, isn't that what we all really want?
Photos by Chris Zacchia