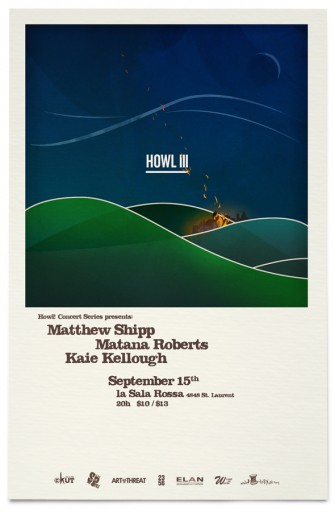 Howl! Arts Collective presents an evening of contemporary jazz at La Sala Rosa this Thursday September 15th, as part of the Howl! Concert Series. Howl! III will showcase celebrated New York-based solo musicians Matthew Shipp on piano and Matana Roberts on saxophone, with Montreal sound poet and author Kaie Kellough; "three unforgettable artists representing the beautiful arc of jazz culture, live artistic meditations framed by both the liberation roots and contemporary artistic exploration in jazz."
According to  Howlarts.net, "the Howl! Arts Collective is a Montreal-based collective of cultural workers, artists and activists working for social justice via artistic expression." The Howl Concert Series is an offspring of this collective; born last year into a frigid December night, it featured three local artists on cello, oud and piano. Created with the purpose of celebrating Montreal's incredibly diverse and independent arts community, the Concert Series also aims to bridge connections between the arts community and the important social justice work being done in Montreal and beyond.
Renowned jazz musician Matthew Shipp has been involved in the New York jazz scene since 1984. Deemed as "one of the leading lights of a new generation of jazz giants,"  he has crafted himself an amazing career. He's been a sideman in the David S. Ware quartet and Roscoe Mitchell's Note Factory, has recorded numerous solo albums and is currently the curator and director of the label Thirsty Ear's "Blues Series."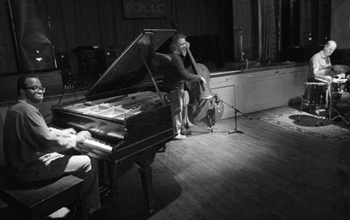 Matana Roberts is a "saxophonist/multidisciplinary sound conceptualist" who is internationally recognized and celebrated for her alternative and experimental music and improvisation. Howlarts.net calls Roberts "a striking saxophone player" who is "celebrated globally for work that builds on and challenges traditional Jazz language while incorporating a multitude of sounds into a sonic landscape that are uniquely beautiful."
Dubbed as a "word-sound systemizer,"  Kaie Kellough has been based out of Montreal since 1998. Kaie has published two books of poetry, and his latest, Maple Leaf Rag, has been labelled a "dynamic jazz-infused riff on Canadian culture." In 2005 he was writer in residence in Toronto for the International Dub Poetry Festival, in 2008 he was the subject of a short national film board doc titled Ebon Flow, and his work has been featured on CBC radio, ZeD TV and Bravo TV. "Kaie's print and sound work is underwritten by rhythm and by a desire to dis-and re-assemble language and meaning. Kaie's work emerges where voice, language, music, and text intersect."

Howl III is in collaboration with the Suoni Per Il Popolo Festival and Four Minutes To Midnight, among others. The Suoni Per Il Popolo, or "Sounds For The People" Festival celebrates Liberation music—"music inspired by freedom of expression, improvisation, and sonic exploration…[and] is comprised of an eclectic collection of genres which includes but is not limited to free jazz, noise, electronica, turntable art, soundscapes, experimental rock, electronica, musique actuelle and spoken word."  Although Suoni Per Il Popolo takes place in June, the festival offers a handful of off-season shows throughout the fall at both Casa Del Popolo and La Sala Rosa.

Four Minutes to Midnight  is a Montreal-based literary arts zine that explores poetics and politics in an experimental, collaborative structure. Also known as 23:56, it acts as a platform that works together with activists and artists in an effort to explore social and political issues.

Don't miss out on this amazing concert; Howl III is certain to be an inspirational night of experimental jazz and rhythmically riveting word performances.

Howl III is happening Thursday Sept. 15 at La Sala Rossa
Doors open at 9pm
$10 in advance /$13 at door.