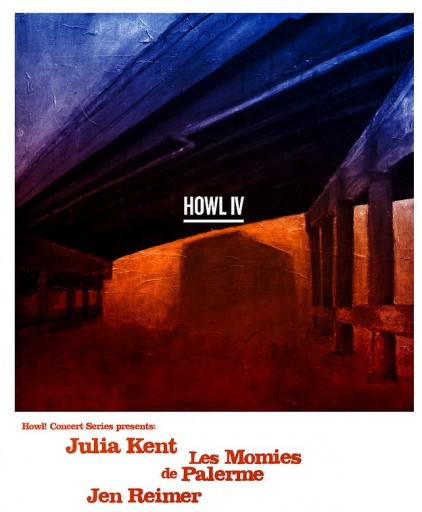 If back in September you missed Howl! Arts collective's third concert, featuring Matana Roberts, Matthew Ship and Kaie Kellog, then you missed grooving with the people around you in collective appreciation. Matthew Ship played jazz piano for over a solid hour, and I sat on wood paneled floor with my back against a table leg and my head lost in a sound cloud. If you weren't there to experience it last time, I highly recommend attending the next show. Luckily that happens to be sooner than later; Howl! is presenting the fourth concert of its ongoing concert series on November 24, 8pm, at La Sala Rossa.
Howl! brings together diverse artists whose experimental, soul moving and contemplative music is the unifying force that completes the evening. Thursday night will be no exception, with Canadian born, New York-based Julia Kent who uses multitracked cello, found sounds, and electronics to create her powerful solo compositions; Jen Reimer, a Montreal-based sound artist and multi-instrumentalist whose site-specific creation and improvisation helps her explore urban scoundscapes and sound mass composition; and home-turf duo Les Momies De Palerme, who use synthesizers, guitar, violin and vocals to compose beautifully meditative, trance inducing arrangements.
As winter sets in, and blustery bone chilling winds whip around our bodies and scathes our mittenless hands, Sala Rossa is a mug of mulled cider on a freezing November night. While the venue offers an escape from the cold, the music will offer you a whole other level of escape, and before you realize it, you'll have spent the past three hours grooving with the people around you in collective appreciation.
La Sala Rossa 4848 St-Laurent Thursday, Nov. 24 doors at 9:00$10 in advance, $13 at door.
Advanced tickets can be purchased at Casa Del Popolo, Sala Rossa, Atom Heart, Cheap Thrills, L'Oblique and Phonopolis.