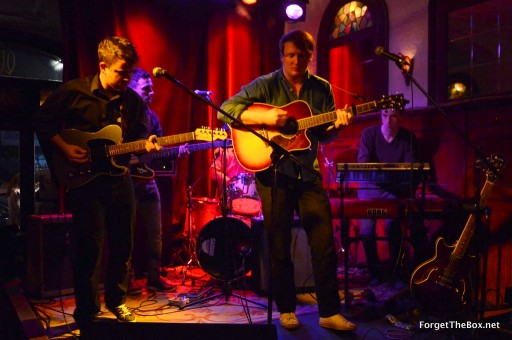 Ever since moving to Montréal five years ago, Quai des Brumes has been one of my favourite small venues. I've seen multiple good shows in this narrow bar on St.-Denis, and often they were acts I'd never heard of, pleasant surprises. I've always found that the place just feels good, too—warm, welcoming, what have you. It makes me happy to be there.
So imagine how happy I was when I heard that some good old boys I know from the Maritimes were coming to play at Quai.
The boys in Coyote all hail from my neck of the woods—Maritimers, all coming either from PEI or Nova Scotia. I have some great memories with a few of them, and great love for them as humans, and it had been years since I had gotten to hang out with any of them, let alone see them make music together.
I wander into the bar and start doling out hugs. There are tables right up to the stage, and the ones in the front filled with semi-familiar faces, Maritimers I haven't seen in years and years, old friends and new, mostly all transplants that have moved here. The boys were pleasantly surprised by the turnout, an almost-full house for bands that are, as of now, relatively unknown—but working hard to get recognized.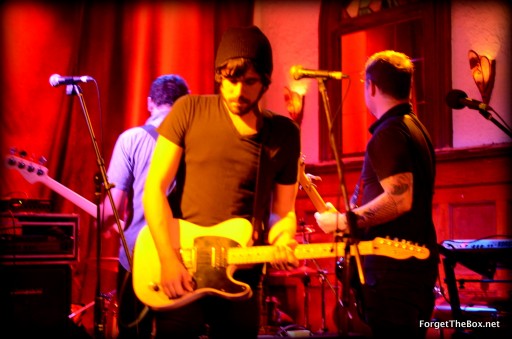 We Are Monroe were on the bill offering local support. This four-piece's post-punk-flavoured rock is scrappy and upbeat, lead by powerful vocals and backed by solid rhythm-work. They deliver a solid live show, and they know it—their EP, released on their bandcamp page, is a live recording designed specifically to get you to come out to see them perform. I respect that, as a huge believer in live music.
Coyote took to the stage and a few of the more enterprising young Maritimers started pushing back the tables to make a dancefloor—to the visible annoyance of the waitress. Understandable.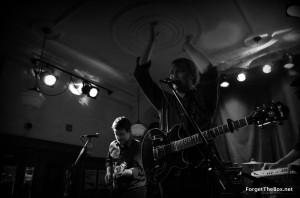 Lead by Josh Carter's unique and powerful tenor and the harmonies packed around it, Coyote's songs are generally light-hearted and well-arranged, featuring a good mix of acoustic and electric sounds. Bruce Rooney's effects and pitch-bending on lead guitar add a Modest Mouse-like feel to a lot of their tunes—not surprising, since Bruce is a self-confessed huge fan. And major fun for me, because so am I.
Their musical, highly danceable songs also bear the certain je-ne-sais-quoi of Maritime rock—a bit of a jammy, almost two-tone vibe that seems to be present in a lot of the talent coming out of these tiny powerhouse provinces. The boys are tight, too; their songs are full of starts and stops that to pull me in and keep the ear entertained. Bradford's keys and Evan's bass add depth and complexity, while Mike's drumming is solid and just a little funky. A talented little knot of Maritimers, Coyote puts on a high-energy live show, all packed with moxie. You can tell these boys have worked hard, played harder, and will continue to do so.
If you're a fan of Plants and Animals, Modest Mouse, or Kings of Leon, consider giving Coyote a bit of your attention.
Photos: Chris Zacchia (For more pics from the show check out our FB page)