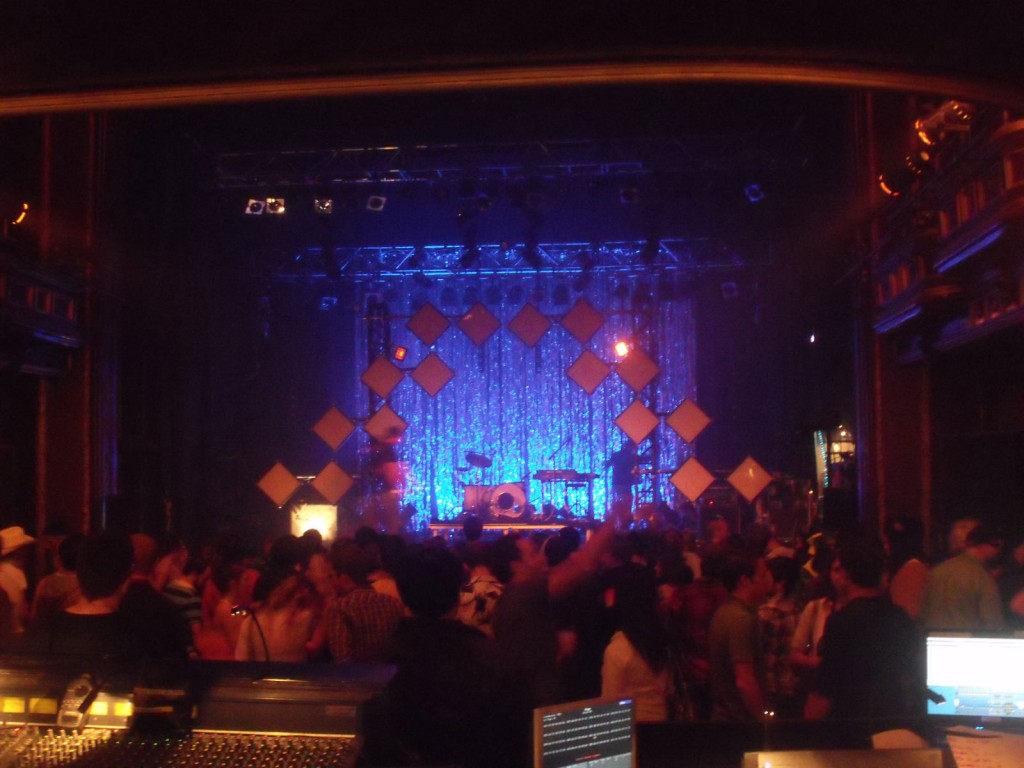 "This is what music is supposed to be about," said an old friend as we waited through entirely forgettable rapper Donnis' opening act at Matt and Kim's show at the National on Saturday, "They just have so much fun playing music, and that enthusiasm is infectious."
At least I think that's what he said. I might have made that last part up or stolen it from someone else, but the point remains: having fun is what Matt and Kim are all about. And fun is what around 400 boisterous Montrealers had, making up for what they lacked in numbers with an energy that was impossible not to be swept up by.
For the benefit of the uninitiated, Matt and Kim are the real life couple of Matt Johnson (vocals/keyboards) and Kim Schifino (drums/vocals). These sexy New England rockers met in Brooklyn, where music (and Matt) apparently dragged Kim away from life as a world class runner (go figure right?).
Using an uber-minimalist setup of a drum kit and keyboard they have pioneered an entirely original sort of new school indie-pop-punk defined by its unapologetic happiness. Driven by Matt's infectious charisma and the ear to ear grin that Kim can't seem to wipe off her face, this duo WILL get you moving.
They warmed up the audience early with the crowd pleasing Good Ol' Fashion Nightmare while I was still in the back, trying (and failing) to take some halfway decent pictures. After that I made my way to the front and spent the rest of the night in what must have been the most relaxed and friendly mosh pit I've ever seen.
Throughout the night both Matt and Kim told stories, cracked jokes and got into it with the audience, praising Montreal with a straight faced earnestness that made you believe they weren't proverbially reading it off the back of the guitar.
After an amusing story about balloon animal dicks and registered sex offenders they launched into a rollicking rendition of Lessons Learned, recruiting the crowd to sing the chorus of "Da Da" (presumably keeping it simple for the drunks among us).
Silver Tiles, off their new album, was an energy filled romp, with the crowd joining in for the "and all our hopes, and all our friends" chorus, making what could be a mildly melancholy song into a joyous sing-along.
Before the song 1234, Kim threw out a bag's worth of balloons and asked the audience to blow them up and toss them up on cue, leading to a pretty wild balloon infested dance floor for the rest of the evening.
The night ended with the song Yea Yeah, followed by a pretty awesome cover of You're Better Off Alone and a rendition of their hit Daylight that was so ludicrously high energy that I literally feared for the structural integrity of the venue's floor.
Let's see, so what did I forget? Oh yeah, there was Matt climbing the height of the set and gesticulating wildly from its peak, Kim walking out on a sea of hands to do a "booty-shakin' dance" while literally perched on the hands of her enthusiastic followers, a constant stream of crowd-surfers (urged on by Kim's promise of a prize for the best crowd-surfed Halloween costume), a story about how their sound guy thinks about riding a motorcycle while having sex and jumping through a ring of fire when they play, and something about a dinosaur with his dick out.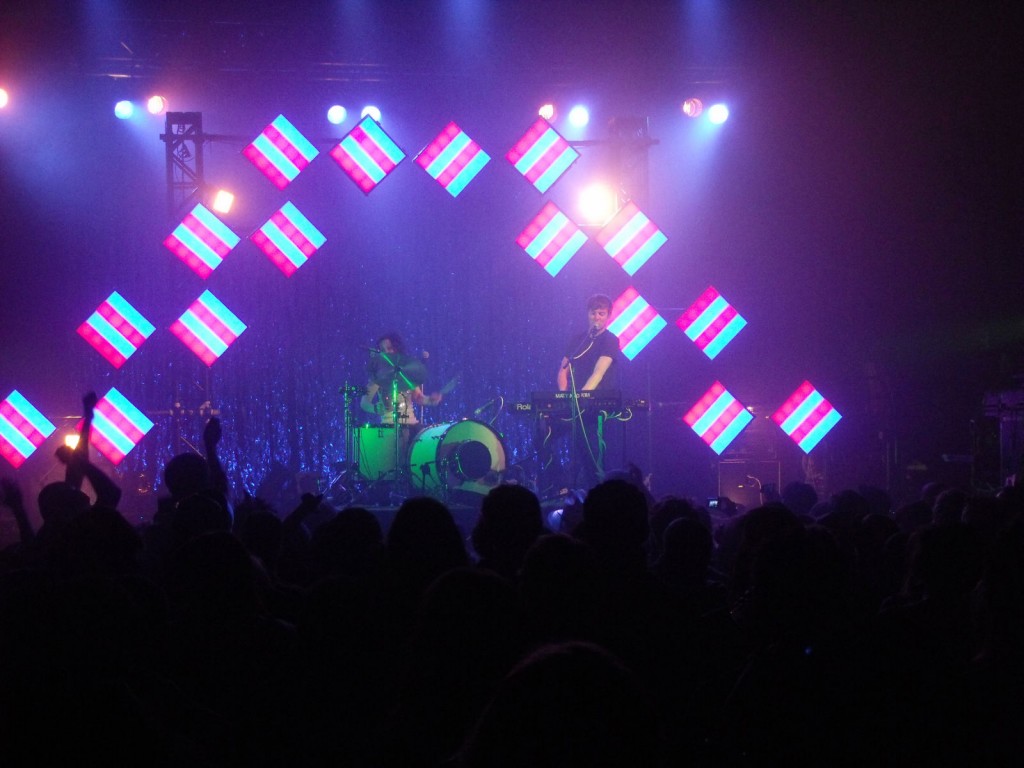 Finally the lights came up and after both Matt and Kim shook hands with most everyone from the stage, Matt jumped into the crowd and started hugging everyone in sight, a post-show move that has gained trademark status with these two.
And then we left, a deluge of smiling, happy Montrealers pouring into streets covered with the first snow of the year, not even the early cold could breakthe euphoric grip of the King and Queen of happy.
Matt and Kim got us moving, made us smile and at the end of the day that's really what they're all about. So make it out next time they come to town, I guarantee you won't be disappointed.
Photos by Monica Howlett, videos by Ethan Cox. Watch more:

Matt and Kim perform Motorcycle Story
Matt and Kim perform 1234 surrounded by balloons