I am an artist, I have been involved with and gone to a lot of art openings. It takes a lot of tedious work to curate and hang, to prepare, to get everything ready for public consumption.
The artist bares it all, it is terrifying, even if you are confident in your work. It is the culmination of months or years of dedication to your subject matter, it is who you are. One does not make art: you give birth to art.
Art openings are supposed to be a celebration of investigation, of the audience questioning and discerning for themselves. Usually they involve looking at art, some contemplation, maybe a paragraph on the wall to read, and oh yeah, wine, lots of wine and frivolity.
Recently I went to several openings, and noticed that I was being just another shitty hipster. I was drinking and laughing while a powerful black woman was literally hanging by her hair. I was white privilege incarnate, I was wrong.
The realization that I was part of the problem forever changed my attitude towards the current state of the art world, and made me look inside myself. Admitting you are wrong is only a small step.
Art is about expression, it is connection, it is the artist figuring out a way into the viewer's soul. It is a shared experience, it is the extreme beauty and abject darkness made into "stuff" for us to be affected by. Art is what we feel, it is the heartbeat of the universe.
Art does not lie, it doesn't know how. Are we just afraid of reality? Have I been so bound in my own small world that I did not know I was being just like every other asshole who didn't pay attention? Apathy is evil.
My friend bared her soul, she spoke of a black woman's relationship to her hair, and how a Eurocentric society has pressured her and her family to be forever. They conformed to survive, and were forced to abandon their culture and natural state of being to fit in with those who oppressed them, people who look just like me.
I do not want to be the oppressor, but it was happening. It was not until her boyfriend said "finale" that I finally went into the room, I finally listened. Standing in shame in front of her opus. What kind of woman lets another woman suffer alone?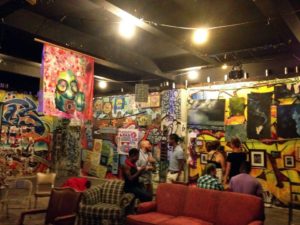 Art is not just another opportunity to jerk ourselves off or flaunt our coolness. Go to an art opening to be with the art, respect the artist by giving your full attention.
The snacks are there but they are not everything. Yea, vegan cat shaped pizzas are fun, and sometimes art is fun, but other times it is serious.
The complimentary wine doesn't mean stop looking, it doesn't mean stop noticing or questioning. Art is not an excuse for social fuckery. Get drunk with ideas.
We are lost, using art for social gain instead of intellectual growth. You must actually show up to make a difference, be present in your community and pay attention to the world at large.
YES, it matters that atrocities are happening all over the world (and right here) while we sit here and complain about nonsense. Art is a record of that suffering, it is a shared feeling, we are transported to a moment or a dream when we view art. Ir is more than just looking, it should be a full all encompassing experience.
A look at my own art made me realize that even though I try to be woke to the evils of the world I still generalize, I still only touch the tip of being political. Art is direct action! Who am I fighting for?
I am not using this opportunity to say something. I need to stop making pretty things and start making change. We are on the verge of an apocalypse and we must actively be there for each other.
Use your power to give voices to the voiceless, a platform to stand on. Never objectify another's experience by misrepresenting them or speaking for them.
I want this to be a public apology to every artist and subject I have ever disrespected. I promise to pay closer attention and think critically about the art I encounter and make from here on out. I will no longer shuffle off in ignorance, I will be there in silent solidarity. I will give you center stage. I will learn what you are teaching and immerse myself in your ideas.
Art is bigger than us, it is immortal, a record of the current (soon to be past) or already gone. Make art everyday, live it, and become it. Take this time to be present with me and let's change the world.