I always read the Craigslist missed connections hoping that there is someone out there who wants lil Ol'me. Actually, who am I kidding, I'm on there for the same reason I like John Waters' movies, it's all about the filth and unsavory splendor.
Gotta keep check on the creepers of the world, the heavy breathers wearing trench coats in the corner masterfully master-bating sting quietly while you live your life in blissful ignorance.
M for F 30 Spot Coffee Delaware
Amazon woman with blonde and pink hair sitting alone at Spot Coffee reading The Ethical Slut wearing a black dress covered in cat hair. I saw you and the world stopped. I wish I would have said something. Reply with the sports team that was on the shirt I was wearing, hint it matches your ankle tattoo. I swear by your smile we must be soulmates. I want you to tie me up and put out cigarettes on my chest. Let's go on a long walk into the sunset together. Then you can pee on me because I love you. You complete me.
Woof. That escalated quickly. Some connections are made to be missed. I'm happy to be single. I walk tall and proud, confident and free of the relationship bondage that ruins most humans and the sad yearning that ruins the rest.
I do not need you to complete me. There is nothing you can give me that I can't earn myself. I prefer to roll solo without any unnecessary baggage. Single, young (well young enough), and bisexual. The world my oyster, and oysters are supposed to be the sexiest food because they subliminally remind people of slurping a vagina.
Currently I'm swimming in hot blondes. I don't know what to do with a girl this hot. All American cheerleader sex kitten angel fell asleep on my boobs the other night, she told me it was like waking up and the dream was still going. I was so sweaty though and the worst horror movie with a guy in a bunny suit was playing and I couldn't reach the remote. I would have watched it all night instead of making her move. I can't even…
Drowning in sweet poon and all I want is you baby. There is a boy that I have feelings for and he knows. I respect that he doesn't want to sleep with me but it doesn't make things any easier. If he only knew we wanted the same things. Imagine the amount of girls we could pick up together? I can't even…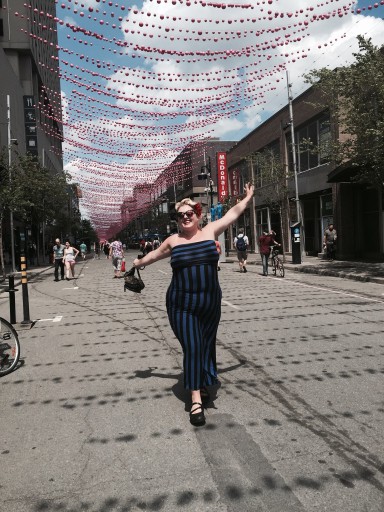 So instead of choosing one I choose fun.
I remember my early twenties really well, I had just gotten out of a long term relationship with a guy who ended up being uber controlling. It was the beginning of my burlesque career and he told me it was him or burlesque. Well I've been doing burlesque for almost eight years now so I guess you can tell what my choice was. See ya later asshole. Remember it's not love if someone tries to censor or control you! The things you do and love are infinite and important.
After we ended it, the weirdo dude even stowed away in my van and begged me to take him back. I eluded him and never looked back. He married the next girl he dated. Without burlesque that would have been me.
I'm not made to be a housewife and mother. I'm too selfish and messy. I'm an only child who never wants to grow up. Sure, I'll make you a breakfast sandwich in the morning but then you must be on your way because I have shit to do that just doesn't involve you.
Rid yourself of the notion that you need to find your soulmate to make yourself whole. You are already perfect, the only thing that will truly satisfy the yearning in your heart is exploring the unknown. There is so much wonder and beauty out there.
My life invokes adventure and passion. My journey involves being free. Life is a stage. My arms are outstretched and the wind caresses my exposed nakedness. I'm not a spinster old maid, I'm a modern woman who will not accept the status quo. I'm the king of the world. I am a lone wolf, hear me howl at the moon. Try it for yourself.