"So the dominatrix texted me last night" Forget the Box creative director Chris Zacchia laughed as he took a long drag from his cigarette and sipped on his PBR. Hanging outside 3 Minots during a break at the latest Pop Montreal Indyish/Paper Garden Records collaboration this past Wednesday, Zacchia proceeded to update me on his recent exploits so outrageous they must be true. As I listened to the stories a sea of Plateau hipsters wandered up and down St-Laurent laughing, smoking and being generally unimpressed with everything.
Oh Montreal, how I love you. Life is definitely never boring when your around.
Pop Montreal has become a very important festival to me over the past few years. Usually gone most of the summer working for the Toronto International Film Festival, POP is a perfect place for me to catch up with friends, keep that crazy festival high going a little bit longer and most importantly hear great music.
Sadly I wasn't sure if I was going to be able to make any POP shows this year, since I was only in town for a few days. I was quickly convinced to make time for this event when I realized it was a POP Montreal and Indyish collaboration. I've volunteered many years for Indyish, which is produced by my longtime friend Paul Aflalo. Because of this I know first hand that Indyish always puts on a professional show with interesting performers. This evening was no different with artists such as Polaris nominated band Hooded Fang.
Showcasing artists from Paper Garden Records, the evening was hosted by Aflalo's co-host of the CJLO radio show  Edge of the CityAsaf Gerchak. As we listened to a engaging and varied group of indie performers fellow FTB-er Jess Klein, our friend Maarika, and myself eagerly took part in the coloring contest portion of the evening. Let's just say coloring in the dark after having a few drinks produces some amusing results.
Of the five bands that played: Belgrave, Little Tybee, Holland Creek, Pree and Hooded Fang, two are clear stand outs in my opinion. (Although each band had its merits, and we have a video interview with Pree coming up). After seeing them first perform last May with Little City I was just as impressed seeing NDG's Belgrave a second time around. Swaying in the front row with Maarika, who introduced me to the band in the first place, we sang along to songs like Tokyo. Belgrave is very good at creating moments with the audience, and because of that they happily have me as a fan.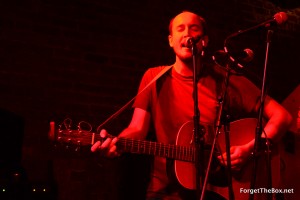 The other band that I loved at this showcase was Atlanta's Little Tybee. A great southern folk band, they immediately clicked with the Montreal audience. "You're good!" People began to cheer, and the band quickly got off on it, repaying us with an amazing performance. Backstage after the show we chatted briefly about their long car journey and they seem like really nice kids, which may sound dorky but makes me love their band even more. Download Little Tybee. Now.
I wish I could have gone to more shows while I was in Montreal but I'm happy that I did get to be apart of such a fun night. And unlike the 2$ chow mein I ingested on the way home from the show, I hope to have much more Indyish and POP Montreal in my future.
Photos by: Chris Zacchia
For more photos check out ForgetTheBox on Facebook, and watch for the upcoming release of video interviews with Little Tybee and Pree.