What does your bicycle riding habits have to do with the most recent environmental disaster?   Everything.
The British Petroleum oil spill in the Gulf of Mexico that began on April 20, 2010 continues to wreak havoc on the diverse flora, fauna and ecosystems of the region.   The spill has encouraged deeper discussion on the need for alternative fuel sources, although the debates are like a tired tennis match.
This is where you can come in.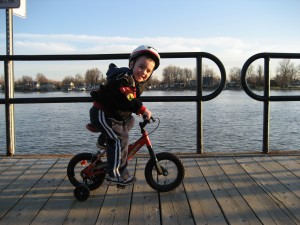 Oftentimes, when great societal shifts are needed, they are not made at the larger government level.   Grassroots efforts have been the driving force for many revolutions.   Rosa Parks, the Civil Rights movement and Love Canal puts the proof in the pudding.
The momentum needed for the mess we're now in lies at the grassroot level, to a degree.   Normalizing behavioral changes is one way of doing it, but it doesn't stick without a bit of background knowledge.
Re-usable shopping bags aren't "green" if they aren't used, for example.   Making a conscious effort to bring them for any expedition is.   Just a small mention of the Texas-sized trash vortex in the Pacific Ocean should do the trick of educating against the over-use of plastic.
Likewise, taking the bike to work instead of a car is plain common sense, if it is feasable.   It should be, since ideally, you live close to work.
The benefits of bicycle use are enormous.   Increasing personal health, well-being, inner and outer strength and a fond appreciation of well-maintained road infrastructure are some of the immediate perks.
The environment benefits because of your zero-emission transportation choice and decreased wear and tear of the roads, which means less extra resource use for road maintenance, not to mention a decrease in the volume of traffic.   Spending more time outside reacquaints us with the importance of conserving the environment and, it is plain, old fashioned fun.
Some cities are notoriously bike-friendly.   Muenster, Germany has a vivid and healthy biking community.   At the age of 3, children are taught about cycling in kindergarten by police officers.   The are tested when they are 9 years old and follow strict rules adhering to bicycle safety.
The above photograph was taken in Muenster, Germany during a study of the space needed for three different   modes of transportation.   On bikes, 72 people are transported on 72 bikes and required 90 square meters.   In cars, based on an average occupancy of 1.2 people per car, 60 cars were needed to transport 72 people, requiring 1,000 square meters.   On a bus, 72 people can be transported, which only requires 30 square meters of space.
Amsterdam famously has an equal ratio of bikes per person and low rates of lifestyle-related diseases like diabetes and heart complications.
Montreal has recently become more bike friendly since the introduction of the Rio-Tinto Alcan bike rental system, Bixi.   Despite the fact that it uses unsustainably mined aluminum taken from Native land, it does encourage a healthier alternative to an already car-burdened metropolis.
Events such as car free day, the Montreal bike fest and upcoming clean air day point to the importance of decreasing car usage for our health and for the environment.   In bike-utopia, with more bikes on the road, smog days will be less critical, especially for people burdened with lung diseases who are bound indoors on the worst of days.
For SOS Velo, bicycles have been transformed into a social mission.   Taking donated, beaten up old bikes, this group employs troubled youth and adults, developing a strong work ethic and social skills.   They are recycling in the most beneficial way possible: by re-using old bikes to make beautiful, new ones and by motivating individuals who want to have another go at providing for themselves.
The decision should be simple for able-bodied individuals and the opportunity to bike even as an alternative to public transportation will save you money and maybe even a bit of time.   It even helps ease the guilt of skipping a gym workout routine.   Go ahead an indulge in the freedom of a bike ride.