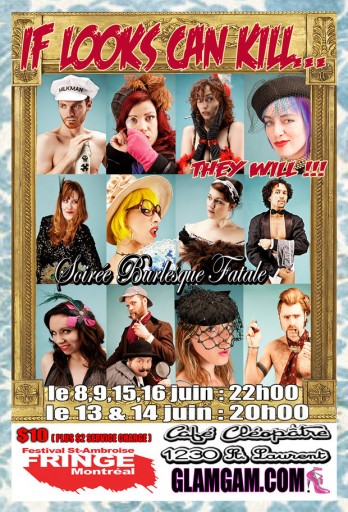 Something's not quite right over at Café Cleopatre, home of the rare winged unicorn of burlesque troupes, the one and only Glam Gam Productions. Since their emergence on the Montreal burlesque scene in 2009 with the Yuletide spectacle "Tits The Season", they've gone on to produce a series of themed variety shows before venturing into a theatre-based structure. Glam Gam gained some recent notoriety when their murder mystery sensation "If Looks Can Kill… They Will" was named best play by the in the Montreal Mirror's annual Best Of Montreal poll and it seems like it may be going to their heads.
The polyamorous triad of Michael J. McCarthy, Sarah Murphy-McCarthy and Julie Paquet McCarthy are celebrating the third anniversary of wedded bliss by getting the whole gang together for the sexiest reunion show ever featuring full frontal nudity, live music and Clue-inspired antics, all staged in the cabaret room of the only remaining strip club in the former red light district on the Main, Cafe Cleopatre.
If you missed the smash hit production last August, you'll have a chance to see it again at the Montreal Fringe Festival… if the actors are able to make it to opening night without letting tension get the best of them.
"I don't know how much more of these idiots I can take, honestly," lamented bartender Cherie Charles as she vented her frustrations with the group at a recent practice. "They are the most pathetic group of dancers I've seen in my entire life. Everybody knows I'm the only real burlesque dancer in this whole troupe." Rumour has it she recently split for Paris, possibly hoping to shake her tail feathers at the famed Moulin Rouge.
When asked for a comment on the mounting animosity between troupe members, Julie Paquet-McCarthy screamed, "I have no time for an interview right now! I have to practice my big tap solo!"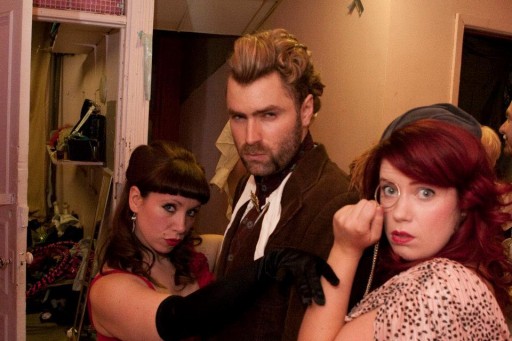 Some are starting to wonder if the production is befalling a showbiz curse worthy of that Scottish play. While investigating the scene, detective Sherlock Homo took a nasty spill down the steep backstairs at Cleo's, throwing out his back in the process. An anonymous source revealed to me that this fall might not have been an accident, leading this reporter to wonder how far they would really take the old adage "the show must go on".
Visit glamgam.com for video introductions to each of play's main characters and watch for clues to help discover the killer. "If Looks Can Kill…. They Will" runs for six harrowing nights, with a different outcome each night to keep things interesting. You can buy your tickets online at http://montrealfringe.ca/en/show/if-looks-can-killthey-will, or at the Mainline Theatre box office, 3997 St. Laurent. Tickets will also be sold at the door, if available, at a cost of $12.
Doors will open an hour before the show. Showtimes are as follows:
Friday June 8th: 22h00
Saturday June 9th: 22h00
Wednesday June 13th: 20h00
Thursday June 14th: 20h00
Friday June 15th: 22h00
Saturday June 16th: 22h00
As if this wasn't enough to entice you to come to show, I found an exclusive reel of footage marked "Opening Credits" while snooping around backstage at Cleo's, which I present to you now.  Warning: as with all Glam Gam endeavors, there is nudity in the video.