I spent the first half hour after arriving to Parc Jean-Drapeau looking for a poncho vendor so as to avoid the unpredictable showers, but by the time that I found one I was too late as they had already sold out. Fortunately the rain had, at this point, died down for the most part. I spent a few minutes after that lying in one of the dryer Eno hammocks (a god-send, #île-hammock?) that had been set up in the trees trying to figure out my game plan for the day and cursing the gods for letting me wear white shoes.
The first show I caught after the rain simmered down a bit was Underher, an act which on Île-Soniq's handy app with all of the artists and set times seemed to feature producer, Kalden Bess and singer, Jessica Abruzzese. However according to Underher's Spotify, Facebook, Instagram etc., it seems as if Bess is now the solo sound behind Underher. While this was an unfortunate toll on île-Soniq's already low count of female artists, Bess still put on a great show; sipping his drink and leisurely taking puffs of a joint as he DJ's.
The stage was set perfectly amidst the trees and water, and the sun finally peaked out from behind the clouds. As the audience thickened, many eager to try out their dancing shoes and groove to his alluring rhythmic sound, the energy shifted from dance to something slightly more ethereal and sensual, if not almost eerie at times (think: someone breathing slightly on the back of your neck. Though perhaps this was just the airy breeze).
The next show I caught was Whipped Cream–one of the four featured female artists–and hands down one of the most bad-ass performers I saw at the festival. Her fans were already screaming for her when she walked out onto the stage, decked out completely in a green and blue Pleasures tracksuit with her iconic long blonde hair draped over her shoulder.
There was an evident symbiosis between the untamed energy of the crowd and her own fiery enthusiasm as she bounced with them, even jumping down onto the lower stage during a song to dance along. Her bass sound is clearly inspired by hip-hop, but the range of her musical style is evident as she skilfully churns out head-banging bliss with every song, including Beethoven's Fur Elise. Stage presence? 10. Outfit? 10. Set? 10. Adjective that I can't think of which could describe a coalescence of bad-assery and being adorable? 10!
Next up for me? KSHMR, an American musician and DJ from California, and his performance did not disappoint. I however opted to take a break from being elbow-ed and shoulder-ed by every guy clad in a tank top in the crowd and watched this one from afar, atop (what once was) a grassy hill in the back. Though I admittedly had previously had little exposure to KSHMR's music, during day two of the festival I'd overhead many of the other festival-goers raving about him, and decided to check him out.
When the crystal clear and calm sound of classical piano pierced through the various festival noises I was immediately hooked. KSHMR's music is perhaps universally captivating, including sounds from seemingly all corners and genres of the world that build to epic stomach-dropping climaxes. The show ends with fireworks and a shout-out to the fact that apparently Canada has some of the most beautiful women. A cheesy sentiment, but loveable all the same.
When I got to Claptone's show back at the stage where I had started, the sun was setting behind us against the water. Claptone, a German DJ with a secret identity, was clad in their usual beaked mask and white gloves, which greatly added to the energetic but mysterious ambience of their tech house sound. The music is hypnotic, though its rhythm is diverse and energetic–a sort of melancholy still seeps through.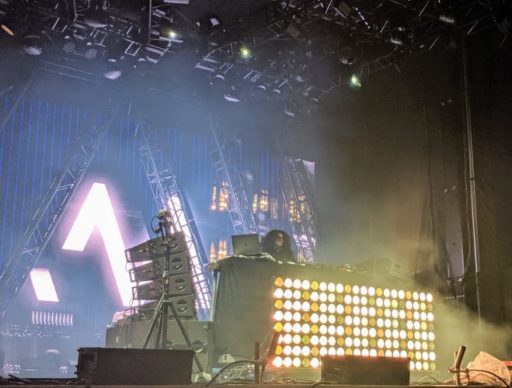 The final performance I saw on the last day of the festival was the iconic Nicole Moudaber, taking over the stage from Claptone, an immediate change in tempo, but the air of mystery remained. Her dark glasses and captivating curly fro give her an enigmatic air of je ne sais quoi, as she lead her audience through the valleys and troughs of her ambient house sounds that resonate in my ear drums long after I left the island (my brain still waits for the drop that never comes in the metro car home).
Day two went quick, and while some of it was a blur, much of it also remains to be incredibly salient in my mind. Each of the performances that I managed to see left me intrigued and hungry for more, from the soft hypnotic rhythms to the head-banging bass drops, to the surprising but appreciated classical music references; each exemplifying the all-encompassing nature of electronic music. Thanks for an unforgettable weekend Île-Soniq!
Photos courtesy of the lovely Celeste Bonnier.