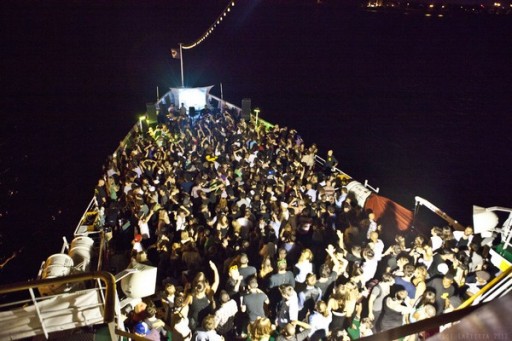 Last Saturday, over 800 hundred people stood waiting in line at dock 13 of the Alexandria pier in Montreal's old port to board a cruise ship for a four hour party on the Saint Lawrence river. Flashes from cameras and smartphones popped under the sky, illuminating the enormous line as people posed for photos with their friends, drank and kept yelling "I'm on a boat!" over and over again.
Now in its 14th year, the MEG festival (Montreal's Electronic Groove) has proved that it can compete with Osheaga, as the closing festivities are the same weekend. MEG Montreal's focus is different then that of Osheaga in that they specialize in showcasing local artists as well as much more electronic music. The two music festivals actually worked together this year putting on MMOI (MEG Montreal Osheaga International) events showcasing local talent.
The Boat party got underway with Jesse Rose who hails from London. Beginning the night on the main floor with Chicago house, Rose got everyone dancing to his amazing collection of electronic tunes. No stranger to Montreal, Rose played the SAT in 2011. He will be releasing two new EPs on his label Made To Play this year. Ed Bangers' Breakbot delivered an equally impressive mix of electro mashed up with Motown to end the night.
Downstairs wedged between two massive bars & surprisingly line-less bathrooms, party goers were treated to Christine, a French duo from Rouen, France. Excited from having seen Justice play for the first time the day before at Osheaga, we chatted while their equipment was being set up.  They told me about how they had fallen in love with Montreal and were looking forward to playing Osheaga in only a few hours. Their brand of dark eletro combined with hiphop scratch was very well received. Montreal's sweetheart Jenny 'Vilify' Carmichael who is originally from Toronto, delivered a powerhouse set to end the night as we drifted back to shore. Her brand of dubstep & dark deep bass can be heard every Wednesday at Belmont's Bassdrive.
Overall a great night! Thanks for the cruise MEG Montreal, can't wait till next year!