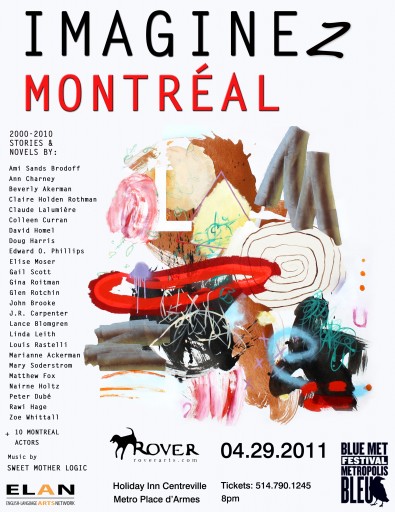 "An intoxicating performance which explores through readings the fictional portrayals of the city of Montreal by some of our most well-known and provocative writers." – bluemetropolis.org
The Blue Metropolis International Literary Festival is in full swing until Sunday May 1.  With an incredible amount of events featuring world-renowned and locally-grown authors, it's an overwhelming task trying to plan your weekend's schedule. A sure way to hear an assortment of excerpts from a variety of Montreal writers all at once in a single location, is to attend Imagine Montreal this Friday, April 29 at the Holiday Inn Centreville.
Put on by Rover Arts and the English Language Arts Network, Imagine Montreal incorporates ten Montreal actors and the band Sweet Mother Logic, as they present dramatic readings of passages from novels and stories by 24 Montreal writers who are part of this year's Blue Metropolis International Literary Festival. Created and directed by Rover Arts publisher Montrealer Marianne Ackerman, these staged readings intertwine with each other to create a fictional narrative of Montreal as a city reborn. The official press release states, "Taking off from the Referendum of 1995, Imagine Montreal follows the evolution of Montreal from a downtrodden, conflict-weary city to a lively meeting place of cultures, ages, attitudes."
What to expect from Imagine Montreal? Just to give you a taste, it begins with passages from John Brooke's Last Days of Montreal, presenting the city's grim and gritty state during the aftermath of the Referendum. Passages from Claude Lalumière's This is the Ice Age and Louis Rastelli's A Fine Ending "capture the crazy days of our downtown apocalypse, in retrospect, a darn good party." The narrative progresses, weaving its way through strangers' lives and connecting them together, until "eventually the town enjoys a break-out" in David Homel's Midway, Gail Scott's The Obituary and founder and artistic director of the Blue Metropolis Literary Festival, Linda Leith's The Desert Lake.

The first embodiment of Imagine Montreal took place this past November at the Bain St-Michel to positive reviews. This Friday will see a different concept, a revised script and a new cast of local actors. Stick around for the after party to kick-start your literary-fuelled weekend!
Show starts at 8 pm in the Dahlia Room at Holiday Inn Centreville (Metro Place d'Armes).
For tickets call 514-790-1245 or visit bluemetropolis.org.