Indie-folk pop band Wild Child came in from Austin, Texas to play at Hillside Festival on Saturday and I don't think they at all expected the reception they received. Prior to their set, people under the tent at the Island stage were sitting or lying down, chatting and relaxing. As soon as the band struck their first note, everyone, and I mean everyone, jumped up and began dancing, clapping and cheering. The band, obviously taken aback, basked in delight and played an energetic set that concluded with a sing-along tune that had the place in a musical frenzy.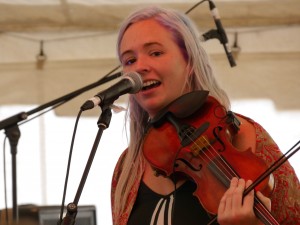 Lead singer Kelsey Wilson has a beautiful, pure tone and sings with strength; a perfect fit to front this group of six. In between vocal phrases and during musical interludes, she plays her fiddle and compliments the lovely cello parts played by Sadie Wolfe. Wilson and the group's other vocalist, Alexander Beggins (ukulele), take on the bulk of the songwriting, but the band is completed with the other colours that include Evan Magers (keyboards), Drew Brunetti (drums) and Chris D'Annunzio (bass). They're a little like Hey Rosetta! with their instrumentation, but the vibe of the music is more like the Dinner Belles.
Wild Child began as an acoustic duo with Wilson and Beggins, who met on the road while touring in support of another band and began writing songs together. They brought in other instrumentalists when recording their debut album Pillow Talk (2011), which then naturally evolved into a full band. Since their inception a few years back, Wild Child have been enjoying some nice successes with their recordings and their live shows. Both albums, Pillow Talk and The Runaround (2013), were well received. The band was named by the Austin Chronicle as the Best Indie Band and Best Folk Band in Austin at the 2013 SXSW festival.At this year's SXSW the band was again named Best Indie Band. This summer they played at Bonnaroo and attracted an unprecedented crowd of over 5,000 to their show.


Check out their video for "Crazy Bird," from The Runaround.
Photos by Stephanie Beatson.
N.B. Hillside was shut down Sunday evening due to a severe thunderstorm. No coverage will be provided.