After nine days of solid, fun and tiring infringing, the final night of performances in the 2012 Montreal Infringement Festival was ahead of me. So far, my first time experiencing the festival I helped found and organize for several years as (almost) strictly an audience member and performer had been going quite well.
After two solid nights of musical performance, I was ready for more, but first, I decided to check out some Infringement theatre. Street theatre to be precise.
I went to the alley behind Bifteck to catch Frog Loves Christy, a play by Julie Barbeau and Luiza Cocora. I had found the location of the day's shows through Barbeau's Twitter, a unique and interesting way to announce a venue, if you ask me.
What Twitter didn't tell me was that this particular showing was also being filmed by Onemind Productions. That meant that we had to watch the performance from one of the fire escapes that populated the east side of the alley.
Our unique vantage point added a nice bit of realism to the scene. It felt like we were eavesdropping on a private conversation taking place in public. The fact that the script was sharp and the acting solid really helped in this.
A nice bit of afternoon infringing, but now it was time, once again, to rock out. That night's shows at Barfly got an unexpected though appropriate kickoff.
The nightly student protest/casseroles march made it's way up St-Laurent, passing in front of the venue. The assembled crowd went outside to cheer them on and once the march had passed, it was time for the music to start.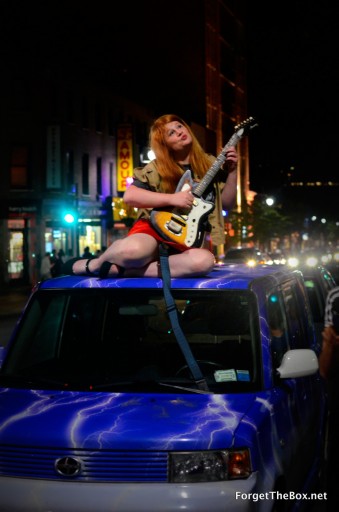 I've seen Pamela Swarts perform before. This Buffalo-based artist played the Montreal Infringement the past couple of years as part of Anal Pudding and drove most of the band to town in her lightning-painted car.
This time around, she wasn't the clarinet section of a raunchy Zappa-esque ensemble. She was front and centre, rocking out solo with her electric guitar and board of sound effects.
Swarts owned the Barfly stage just as she has been owning stages in Buffalo and other parts of the world (even some off this continent) for a number of years. She also rocked out on the streets of Montreal in front of and on top of her aforementioned car following the show.
Next up was Montreal's down and dirty rock three-piece Wolfcastle, comprised of Will Davidson on bass and vocals, Joel Goguen on guitar and vocals and the winner of the unofficial Montreal Iffy Award (see my last post) for most random appearances by festival organizer in festival shows (see my previous two posts) Joe McLean (full disclosure again, also my brother) on drums. They rocked the house down, which was made all the more impressive by the fact that Davidson had only gotten out of the hospital the day before.
Following Wolfcastle, the Barfly stage was returned to the music of western New York as Rochester band Autoverse played some hard-hitting indie rock tunes for the crowd. There were even a few covers. I'll quote the tweet they asked the audience to send out for them (as roaming charges aren't cheap) that FTB obliged: "When Nelly Furtado meets punk rock, everybody's mind gets fucked."
Then Montreal rockabilly band Heroine Hayride took the stage and, well, it took a while for them to get started, but when they did…did they ever. The whole front of Barfly was turned into a dance floor as the assembled infringers were full of late night energy. It was a great way to finish off performances for the fest.
The 2012 Montreal Infringement concluded on Sunday with a picnic on the mountain that moved to Barfly after rain. While there has been talk of concluding the fest next year, the tenth anniversary, in a much more grandiose way, this year ended in true Montreal Infringement tradition…with artists, organizers and audience members just chilling out and talking with each other, making their plans for the Buffalo fest later this summer, discussing next year's Infringement and collaborations during the year.
That, after all, is what the Infringement is about: collaboration. This year I saw artists performing, then meeting other artists afterwards and showing up for those other artists' shows the next night. It's a community that keeps growing and this year I was fortunate to experience that community in a different way.
* Photos by Chris Zacchia, for more, please visit our Facebook page