Since its inaugural edition in 2004, the Infringement Festival has offered Montreal audiences something unique. In a sea of big-name and medium to large budget events distinguished primarily by the art form they present, the Infringement has always opted for a different model.
With little to no budget and a team of strictly volunteer organizers (full disclosure: this year I'm one of those organizers as well as a performing artist and co-founder of the event), the Infringement presents acts from a variety of genres. There's music, all types of music, theatre, visual arts, spoken word, video, guerrilla street performance, comedy, art in alleyways and much more.
The common thread? This is boundary-pushing, frequently activist and political art that challenges the concept of art as a commodity. Instead, it's a labour of love.
The Infringement is not a stepping stone to the mainstream, rather a challenge to it (though, to be honest, some former infringers have gone on to mainstream success). Whether it's a play in a bathroom challenging transphobia or a band who just wants to play a show and not have to go through red tape, there's always a message.
This year is no different. The overall theme is Make Some Noise, a challenge to recent noise fines in the Plateau.
What is different this year is the length. The Infringement is focusing all the activity over five days and nights, call it an intensive dose of authentic culture.
Opening Night
The fest kicks off tonight (Wednesday) with the second-annual Recital Fractal hosted by Louis Royer at Labo de la Taverne Jarry on Jarry East. Expect an evening of French spoken-word and music. I attended the first one at last year's Infringement and was impressed by the multiple talented artists crammed into just a few hours.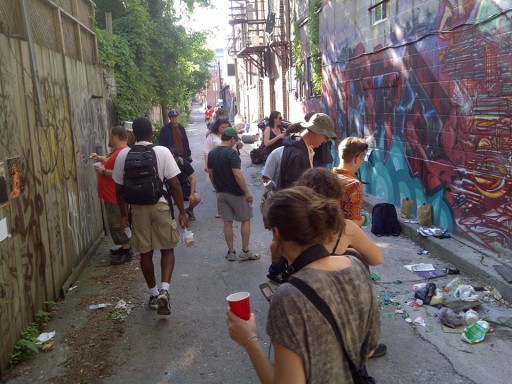 Thursday: The metro, dumpsters, dinner and open mic
There's more music Thursday afternoon in George Vanier Metro. Yes, the Infringement is doing a show in the metro, busker-style. The event features Rebecca Anne Banks, Mr Saad and Richard Lahmy.
Thursday night the Infringement is in two parts of town, first in the Plateau for the Dumpster Dive Art Drive, always one of my favourite Infringement events. With art made from found objects and a vernissage with wine in a brown paper bag, how can you go wrong. If there ever was a challenge to the commodified model of art, this is it.
Next is the Infringement Feast. It's a dinner celebrating both Infringement conceptualizer Donovan King's birthday and ten years of the festival at first-time Infringement venue Caverne Grecque on Prince Arthur.
After dinner, the fest heads downtown, western downtown to be precise. Le Bull Pub near Atwater is the home of Jay Manafest and Eric Chevrier's weekly open mic show Mic Check. This week, the mic is open to all Infringers.
Friday: Rock & Candyass
On Friday, the Infringement returns to familiar surroundings with a rockin' night at the Barfly and the monthly Candyass Beach Party Cabaret at Cafe Cleopatre. Cleo is the venerable burlesque, drag and fetish performance venue with a strip club on the first floor that fought the city's gentrification efforts and won. Candyass Cabaret is a sexy burlesque show that challenges stereotypes. A perfect Infringement match if you ask me .
The lineup at Barfly, in true Infringement fashion, is a medley of musical styles. There's the sweet meaningful folk of Richard Lahmy and the wild, melodic punk of Crazy Knows Crazy, both Infringement veterans. We also get the trippy rock of Realms of Bliss and the experimentation of the extract, both Infringement newcomers.
Saturday and Sunday: Infringement intensive in Old Montreal
In another first this year, the Infringement is going to Old Montreal. Le P'tit Cabaret on St-Paul is a multi-purpose performance space with a mission: to bring locals back to the tourist-dominated cobblestone streets of the old city. The Infringement is happy to oblige with shows on Saturday and Sunday.
Quite a few shows, that is. While there are two events on the weekend that take place elsewhere: the Candyass and King Red Light Walking Tour that starts in front of the now closed (sigh) Bar Midway on Sunday and the art exhibit at Usine 106U on Roy Street East which is running for the duration of the fest, the rest of the Infringement action is at Le P'tit Cabaret.
Melissa Campbell and Cat McCarthy of the Buffalo Infringement Festival (the largest fest in the Infringement circuit) will be performing The Painted Dress, an  interactive live painting, all day both Saturday and Sunday on the stage of the P'tit Cabaret's first room. This is also where McCarthy's Kitty Porn will be displayed. Yes, it's an art exhibit featuring collages of hardcore pornography mixed with cute kittens.
McCarthy will also perform as part of the Buffalo Burlesque Collective on the main stage of Le P'tit Cabaret both nights (and will also be part of Friday's Candyass Cabaret). This stage will also showcase performances as diverse as King's Critical Report from the World Fringe Congress, Seven No-Name Comedians Doing Comedy, Infringement film screenings, a public reading of John Faithful Hamer's Blue Notes and the Infringement Spoken Word Show hosted by Laurence Tenenbaum.
Le P'tit Cabaret will also be home to quite a bit of Infringement music including the second edition of the Infringement Hip Hop Show, this time featuring socially conscious rappers Jay Manafest, Nikolai Kush and Drop D and the always intensely entertaining PsynLangWage.
There will also be funk, jazz, rock, a bit of country and more in the form of Look, a fang!, Mona Lissa & The Brink, The Voodoo Shango Experience, This is not [sic] (full disclosure, I'm in this band, also, we rock!), Von Dalia, Richard Lahmy (his third show in the fest), Busker & Josephine and Jazzotopes.
You may want to note that I mentioned the acts at P'tit Cabaret in no particular order. That's because the best way to experience the Infringement as a journey of discovery, an artistic scavenger hunt, if you will. Just know that there will be something to enjoy on Saturday and Sunday from three in the afternoon until the wee hours of the next morning and head out.
Of course, you could just consult the schedule at infringemontreal.org, but that's kinda cheating, don't you think?
The 2014 Montreal Infringement Festival runs June 18-22