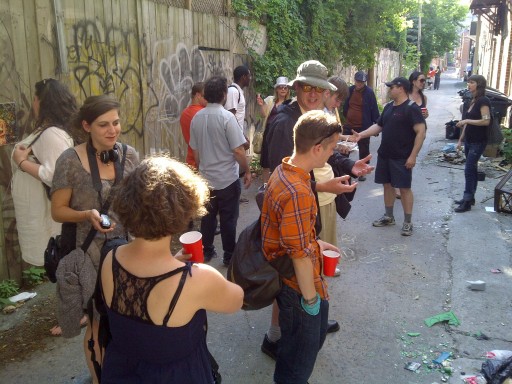 Sometimes intentions get shot to shit. What was supposedly a bi-daily article on the Infringement Festival quickly became derailed as the momentum swept us all up and threw us down a flight of stairs. But alas, it was my fault. I seriously underestimated Infringement's power to bend somebody's life around it for the duration of 10 days. Ah yes, it has been an interesting and frequently hypnotizing event, and as it draws to a close this weekend, I'm left with a sore liver and a headful of craziness.
Opening weekend came to a dramatic and controversial boil as Infringement went mano-a-mano with the Fringe's appropriation of Parc Des Amériques. It was a nasty scene with bad vibes abounding, and the inherent political undertones are edging me towards silence on the whole affair. Not because I dislike argument, but because I just don't feel like stepping into that particular pile of shit right now. I'm fresh off the boat and wearing fresh shoes.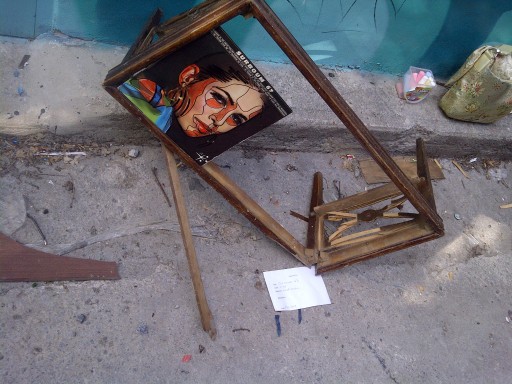 Right before the much talked about (talked is putting it nicely) shenanigans between the two festivals, I took a stroll down an alleyway. Not any alleyway, mind you; the Dumpster Dive Art Drive had moved in for the afternoon. The goal: converting a seemingly innocuous alleyway into a provocative art gallery.
Everyone was in great spirits. Wine flowed, and even the artistically inept among us found inspiration in the assorted melange of waste. It was fascinating as people on their leisurely Sunday meanderings unexpectedly and unwittingly found themselves in a surreal gallery. If you missed it and are intrigued, as you should be, a second Dumpster Dive Art Drive is taking place on the final day of Infringement, Sunday the 26th.
The 21st and 22nd saw me in a rather more serious mood as documentaries around the theme of cultural resistance were shown. First, I saw some shorts, including explanatory pieces on culture jamming and a heart-breaking 20 minute film,  Remembering Bagua, which examined the violent conflict in Peru that took place in June 2009. For the most part, I was genuinely surprised to see this story unfold – a  testament to the truth of it being a criminally under-reported event.
The following evening I went to a screening of Into the Fire, which looked at the G-20 riots in Toronto and the suspicious and despicable activities of authoritarian figures over those few days. It was a disturbing piece and portrayed the closest thing to a dystopian Orwellian police state that I have seen. It's an important film and should be spread and shown to as many people as possible. There is tremendous power, after all, in directing the world's line of sight.
Next up was a vernissage in the impressive Xpression gallery. Organized and executed by artist Christine Rigby, the event was extremely successful. Free booze (for a small donation of course) lubricated our artistic appreciation. The art itself was impressively eclectic and professional, and all agreed that it was a beautiful exhibition.
And so, having had a rather respectably cultured couple of days, I checked my schedule and saddled up for a debauched end-of-week music orgy. Interested?
Don't go too far honey, I'll be right back.
Photos from Infringement facebook page.