It was announced to me shortly before the Montreal Infringement Festival started that Anal Pudding were coming to stay at our apartment. Images of this large Buffalo band ripping the shit out of my place were haunting to say the least. Luckily when I eventually met this quirky feacaly themed group, they were ambassadorial in their attitude and friendly-ness. We all hung out and I got a chance to speak to lead singer Kurt who is the main dude when it comes to Buffalo Infringement. It was exciting to hear just how evolved a small idea like Infringement can become and even how organized and professional it appeared to be. But here, the Montreal festival rolled on.
We showed up to Barfly on the final Friday of the fest a little late, in keeping with the vibe that prevailed throughout the week. Anal Pudding mounted the stage and the surrounding floor space like a pack of confident madmen (and women). The packed Barfly bopped and jumped to songs with titles like "Your dog's got crazy nipples" and "Turd Perv". Surprising to me was that their blend of Zappa-esque "potty rock" was genuinely funny and intelligently composed. Towards the end of the set, rather suitingly, somebody broke out a large box of toilet paper and the ensuing streamer battle was intensely fought to the soundtrack of "Your Momma's got a strap-on".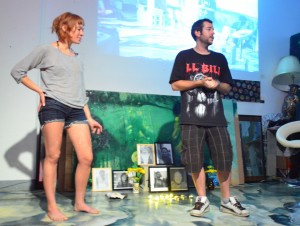 I was excited to see the Smoke and Mirrors show which describes itself as "a critical analysis of the mainstream media and a platform for alternative perspectives on world events". The evening, hosted and run by Jay Lemieux, begins upon reaching the door of the gallery. The lights are low and moody, smoke swirls in the light of a projector which displays trippy visuals on the wall. Dark figures sitting on the couches. The orange glow from their cigarettes briefly illuminating their faces. We were treated to interesting videos as the performers readied themselves.
Dancer Sadrine Charbonneau performed a beautiful burlesque number which saw a female soldier slowly cast off her authoritarian shackles. Clothes dropped. Flower petals showered. Everyone was impressed.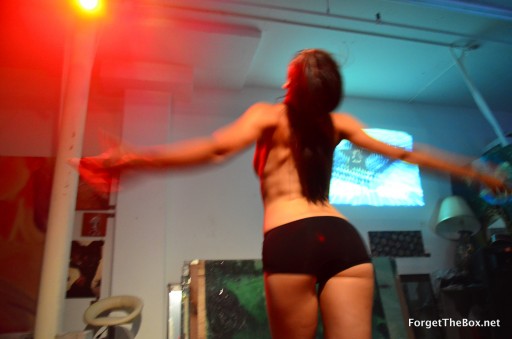 Next, two members of the group Talk/Sing skeleton played an intimate set which none the less had us all clapping and whooping with enjoyment. Tatiana Korelava demonstrated a corporate/corporeal focused piece of performance which subtly made us question the "dominating standards on an individual body" The show closed with a comedic lasso show by Ty Cardaci. His whip tricks combined with quick political humour was definitely an interested way for things to wrap up.
At last, the final day of Infringement arrived. It was to be a mellow end to a hectic 10 days. First up was a revisit to the dumpster dive art drive. (with a slight change of venue) We gathered a little weary and red-eyed and made our way to our studio. The art, I found, actually worked a little better this time around. Pieces came together quite nicely and the chalking gave the alley-way a lot of character. An interesting piece was Donovan Kings "I'd rather Infringe" which was an AA Fringe Pass tenderly torn in half stuck to a wall. Everyone drank our wine feeling quite proud. To finish things off as they started the party moved to Mont Royal where the official closing picnic was held.
The infringement festival was a blast. A lot of it went extremely well and even when it didn't, it held a sort of train-crash hypnotism on me. It's inspiring to see that all it takes is passion and dedication to be able to pull something like this off. I will definitely heading to Buffalo to continue Infringing.
Photos by Chris Zacchia
For more photos of the shows check out ForgetTheBox's Facebook page and don't forget to "Like" us 🙂