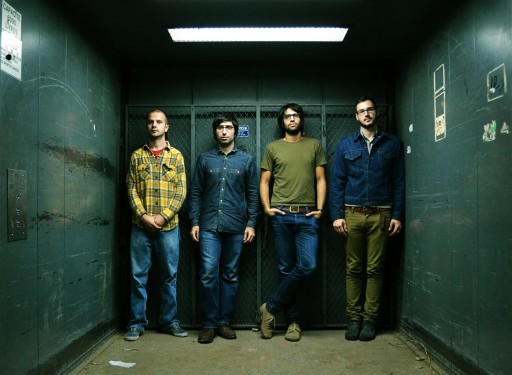 On Thursday, local band Intensive Care is launching their EP at Casa del Popolo. These guys are playing cinematic music infused with just the right touch of rock. Like intensive-care specialists, they're crafting their sound very carefully; one step at the time. They will be joined by Technical Kidman and Golden Isles. For $6, you get to see the show and go home with a copy of their new EP. Sounds like a sweet deal to me.
Want to know to a little bit more before the concert? Here's an interview I did with them…
How did Intensive Care start?
I was fresh out of finance studies, and I strongly felt like I had to escape that world. It fast became clear that music was a path I wanted to explore so I formed my first band with a couple friends, but it didn't work out. Nadim came to our only show (in a basement) and asked me if I wanted to jam. And that's pretty much how it started. We then looked for other musicians in the McGill faculty of music, and started writing tunes. Then we had to choose a name. That day, our bassist Derek was actually in intensive care undergoing serious brain surgery. The name of the band is an hommage to that.
You guys come from everywhere (Lebanon, USA, Canada). How does it influence your creative process.
It's quite clear to us that our different backgrounds play a crucial part in the band's dynamics. We are constantly sharing ideas and influences and discovering each others' cultures. We are all bringing something from our heritage with us, whether it's musical influences, moral issues, world-view, food tastes etc. We keep learning from each other and challenging our perception of things. This sounds very didactic, but the process is quite natural, even subliminal sometimes.
In the early days, we would often find each other at a loss for words when it comes to expressing ourselves and resolving conflicts, and often we misinterpreted each other. Musically, our differences are more manageable and malleable. We are learning a new language together, and getting better at it together. So naturally we started developing kinship and a strong common base on which we each built our specific styles.
The album you're about to launch was produced by Jace Lasek. How did you guys met? What does he bring to your music?
We seeked him out back in 2008, after watching him perform with his band The Besnard Lakes. I remember that night very vividly. I turned to Nadim and said "that guy looks like he's one of the last living rock mythical figures." It was mostly a gut feeling I had when I said that, but it lead us to discovering that he ran a studio in town.
So we called him up and left a message on his machine, never expecting a reply. Sure enough, he called us the next day and invited us over for a chat. We talked about our vision, and where we wanted to go and that was pretty much the start of a nice collaboration that has lasted since then.
He produced our two LPs and his input is extremely valuable to us. He brings a sense of control to the music and helps us find where the true essence of each song really lies so we can highlight it. He's also a kick-ass engineer and we feel like he knows what we want and how to reproduce it on tape. Most importantly, he's just a tremendous guy to be around.
You've been around for quite some time now. What is the one goal you're looking forward to achieve in 2012?
We've been around a long time indeed, but that's very intentional. We are hell bent on taking our time. That's the way we want to work, and that's the way we are doing it. We are patiently learning our craft, learning about the industry and the mechanics of it all.
Also, music and personal lives are interwoven and have to go hand in hand. So we make sure that one feeds off the other without ever going over. The record we just made talks a lot about these issues, about taking time, and the potential rewards and risks that come with that approach.
2012 is a very interesting year for us, because it's the year where music is going to pretty much take over our professional lives. I recently quit my career in film distribution, Derek finished his studies last year and Nadim is about to end his PhD. So by summer, we'll all be on the same wagon. We plan to tour a lot, and are considering some labels to release our record. We also have plans to explore other avenues to tie in to our music, but it's too early to talk about that.
The record's been ready since December, but we are holding off on releasing it for a little while. We want to give it the release it deserves. That's why we're releasing this EP, as a taste of what's to come.