Legally speaking, I'm not Canadian.
What I am, however, is a university student in Canada. I've made the conscious decision to leave my home country behind, and come here so that I could find myself a "better" life, whatever that might be. My reasons are my own, and may not be reflective of everyone's; but that does not change the fact that I am not the only international student in this country.
The usage of the term "international student," however, is a form of branding. It separates you from the rest of the population, and hovers over your head as a constant reminder that you do not really belong here. It can be argued that individual universities try their best to make sure international students feel like they belong; but what ends up happening is that you end up feeling like you belong to your university, and not necessarily to your province, let alone Canada.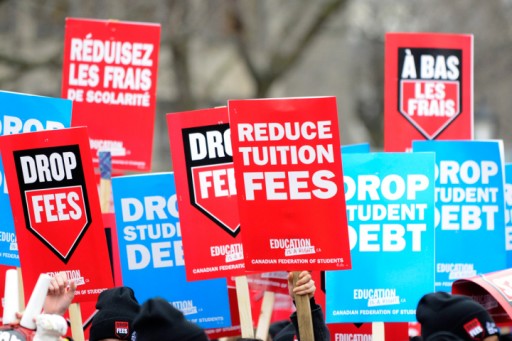 The fact that international students are expected to pay more than Canadian students does not help rectify this problem, at all. For instance, at McGill University, the tuition fees for international students are roughly $18 000 per academic year, while Quebec residents pay around $4000.
A Quebecois student could complete four Bachelor of Arts degrees for the same amount of money it takes for an international student to complete a single degree.
Ignoring all the social and cultural impediments that might make international students feel alienated; this simple fact is enough to make international students feel as if they're nothing more than just another source of income for their universities, if not their province.
Let me get one thing straight, before I go any further. Education is not a privilege, not even post-secondary education. Within the context of the capitalist system, in which not having a university degree is unfortunately the equivalent of being unqualified to work, education has to be a right. Education has to be accessible.
"Why not stay in your home country?" I can almost hear you asking. Not all countries are equal. Not all countries can offer the quality of education that most Canadian universities can. Yet the capitalist system is the same everywhere. Is it not the right of any young person to seek the education that might make them have a shot at a decent life? If they feel trapped, if not suffocated, in their own country, why shouldn't it be their right to choose a new life?
And no, just because I am an international student, does not mean that I have to pay more. No form of economic dire straits can justify that, but it has been the norm in the past, and it is still the norm. Back in 1996, Quebec's attempts in increasing student fees failed due to student backlash; however international student fees were still increased.
Another place where you can see the normalization of more expensive international tuition fees is Quebec's relationship with McGill University. According to McGill, they are required to give more than $50 million of their tuition revenues from out-of-province and international students to the province.
You might say that this is to be expected in the context of the budget cuts, and the general economic crisis that is wreaking havoc across the globe; but that's a very cheap answer. How do you account for countries that can actually manage to do this? In France, for instance, education may not be free, as students are still expected to pay between €150 to €750 per year, but at least all students are treated equally. It does not matter whether you are French, or Turkish, or Canadian.
France's economy is not significantly better than Canada's. In fact, in some aspects Canada is faring better than France. So, how is it that France is able to treat all students equally, while Canada is struggling really hard with this?
Furthermore, because of my status as an international student, I am still hesitant about actively seeking my rights, and in some instances I cannot even do that. Why? Because the only thing that makes me "legal" in this country is a piece of paper attached to my passport. And whatever I can or cannot do in Canada is all written on that little piece of paper.
For instance, on that little piece of paper I've just mentioned, it is stated that I need to be a full-time student at my academic institution. Say that I want to run for an executive position at my student union, so that I can be in a position of power from which I can actually have a shot at changing things. As far as McGill is concerned, I have to be a part-time student in order to be an executive at my student union. You can see why that is problematic.
Even if I want to do small things, say create a campaign, or organize a protest or something along those lines; the system makes me hesitate. It is normal that I pay extra. It is normal that I bear the burden of a government's mismanagement of their budget.
It is normal that I pay extra, because studying here is a privilege that has been bestowed upon me by the benevolent government of Canada.
This is but one of the symptoms of a culture based around the idea that citizenship is a privilege that is earned. "Canadianness" should not be a blessing given by the government, which dictates what rights I can ask for. The irony of asking for permission to live in a "post-colonial" country aside, where I am from should not have anything to do with what rights I have. Does my non-Canadianness destroy the very essence of your nation? If that's the case, then good.