*This transcript has been edited for length. 
Megan: Hello everyone, I am Megan Dougherty from Forgetthebox.net and today I have with me Sheena Swirlz, a lover of art, activism, and doing it yourself and much more. She runs a blog dedicated to rejecting capitalism, connecting communities and activism, radical events, and challenging preconceptions in Montreal. Sheena, thank you so much to taking the time to talk with us today.
Sheena: Yes, Hi! It's great to be able to have an opportunity to share information about the blog and some of the organizations that I like to highlight as part of it.
Megan: Well, definitely. Do you want to start off by telling us a little bit about yourself and about Radical Montreal?
Sheena: Well sure, my name is, as you said it, Sheena. I'm from Niagara originally but I've been living in Montreal for a few years and I am an artist, I'm a nerd and farmer, activist and I really have a passion for networking information especially I crave information for events and organizations. As for the blog I do, Radical Montreal blog, it offers community events listing and I also spot organizations, annual events, local sustainable living, resources, and also DIY projects for the garden or bike craft decor and different things like that.
Megan: That's absolutely fantastic. What kind of brought you into this world? Is this kind of the radical living stuff that you have always been interested in?
Sheena: Yes. I've been doing a lot of these things back in Niagara, where I'm from, but here in Montreal the community is so big and there are so many different events going on so I feel really impassioned to both research what's going on and also share the events. I stated this blog two and a half years ago, shortly after I moved to Montreal and because I have a passion about this sort of thing, I wanted to make a list for myself of the things to do in the city and I though why not share this information for people because I didn't find a source in one place where you could find all sorts of different events of different natures and I just thought, "oh! This is a great kind of opportunity to be able to offer that." You know?
Megan: Definitely, I want to talk about the name of the blog a little bit, Radical Montreal. In your opinion, what makes something radical? Is it on a person by person basis or is it a mindset, places. Can you just maybe talk about the concept a little bit?
Sheena: Well, for me the word radical can encompass anything outside of the mainstream view so its cultural, alternative lifestyle, progressive events and I tend to more towards anti-oppression, sustainable places and activities which would be considered perhaps more radical than others. These events and opinions come from my perspective of what's alternative so it's very subjective. I like to think of these events as being things you don't necessarily hear all the time because they have smaller marketing budget but they have incredible relevancy in the community.
Megan: Since you've come to Montreal, what are some of the things about the city that you found are a benefit or a challenge or are there any things that you noticed in that light?
Sheena: I moved to this city now as an Anglophone so I have always found that English, French divide, can be a little tricky before you can speak French. I have been taking a course here that the government offers and I find it a really fantastic resource to be in a class with other non-French speakers in kind of a full time situation and then once you get there you feel so empowered to do it. Not too many other people also know about that so I want them to know how it is to be and Anglophone in Montreal and all the challenges and solutions to be able to do better. But of course, there is so many options to be living cheaply but also having a rich life and that is what I find to be the greatest parts of living in a city because there's so many collective organizations that you can connect to.
Megan: Definitely. Would you like to tell us about a couple of those organizations that you like and are connected with?
Sheena: My favorite bike shop is The Flat at McGill University. They have a really great series of workshops, just kind of like bare bone, they do like how to build a bike workshops. They have done winter biking, doing end of city touring and it is really fantastic. I find their events are really inviting which is really accessible. One of my favorite restaurants is the Green Panther which is a great vegan restaurant it is pretty affordable and it's just delicious. It's always a great opportunity to have vegan restaurant here in Montreal. It is really a pleasure after not having a vegetarian restaurant back in Niagara, where I'm from.
Megan: I can imagine, I actually ate at Green Panther last week. I loved it.
Sheena: Yes, It's fantastic. There are just so many great restaurants here like Aux Vivres was another one. Completely vegan options and really healthy, Crudessence as well, completely raw. This city is really great for food eating out and also being able to buy great local food at the markets and eat seasonably more than in some other places where they don't really have a vibrant community market.
Megan: Montreal is really a city that is focused a lot around food I've noticed. There are so many communities that develop around the food.
Sheena: Oh yes, It's very true. There's a lot of urban gardening projects that are happening which could provide different community gardens in different sectors and then there's different organizations which offer additional gardens for that. In addition, nearly each university has a community garden. It's just fantastic both to be growing food, finding it in the markets, eating it out or going to potlucks which exist from everything from chicken potlucks to raw food potlucks on a monthly basis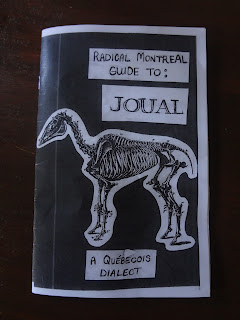 Megan: I was going to ask, what are some of the events that you have been to that you consider particularly excellent or particularly representative of the radical lifestyle in Montreal.
Sheena: Well, Expozine is really fantastic. There you can find over 200 independent writers and artists that are vending their independently published little books. So that's a really fantastic event that happens at the end of November each year. I vend my art zines and other things I create at that event because it's just really accessible to table there, and you are exposed to so many artists both that are from Montreal and also from other parts of Canada that are drawn to Montreal and come that event each year. Other than that I really love Tam Tams on Mont Royal. I find it a great place to go, and spend the day for free. Everybody is really friendly there. There's a local market where only locals can sell their wares for free. They give local artists a real opportunity to have a great stay for there's a lot of tourist to try and make some money. There is a lot of different cultures in Montreal  that happen there, you've got the LARPer's doing their big battles, you've got the circus performance setup, acoustic drums and electronic stages setup, and people of all types sprawled there over the mountain for a temporary stress relief.
Megan: If people want more information about you or about radical events and organizations in Montreal, how can people get in touch with you and follow what you are up to?
Sheena: I offer two blogs weekly. One is an events listing on Monday and then the other one's on Fridays which is a spotlight on eventual projects. You can follow the blog to see those. There is also a Facebook page where I will post not only blogs but also events that I come across that are happening throughout the week. So then there's also the Radical Montreal Zine. I go to different zine expositions throughout the year and sell my independent wares, my zines and give people information about projects and activities that are coming. You can always visit me there.