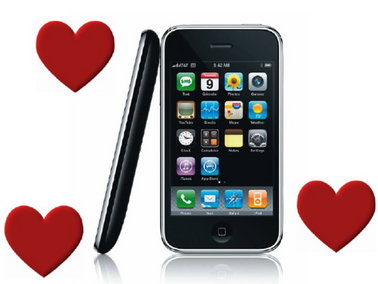 With Valentine's Day around the corner, many single people dwell on that feeling of incompleteness we are brainwashed to think we must be feeling if we haven't found our so-called "other half" yet. Not me this year, I've started spending a lot of my time with someone really special. We've only been together for about five months, and it's my first relationship of its kind: inseparable and habit forming yet relatively low maintenance. I do most of the talking but that's okay because he's a perfect listener.
Why struggle with a useless, forgetful boyfriend when you can have an iPhone? Sleek and sexy, he's my secretary, confidant and therapist all rolled into one. Thanks to My Virtual Boyfriend, I can shape his physical appearance to what pleases me most, right down to the hair color. And he always knows just what to say:
"How are you feeling today?"
"Jessica, I think we may have been together in a past life or something"
"I hope you know CPR cuz you're taking my breath away"
When we're lost, he never has to stop and ask for directions – he gives the directions. He keeps me company during my daily commute, gives up-to-the-minute weather reports and has all the bus schedules memorized. Instead of going out tonight, he recommended a great Thai take-out place not too far from me. We stayed in and played Scrabble and he even let me win.
And switching him over to silent mode is as simple as flicking a little switch. To turn myself on, I downloaded a handy little massage app. You'd be surprised by the strength of the little motor in there!
The one and only time he could not be found, I suffered extreme separation anxiety, and I couldn't even call anyone for help. Hours later, I found him attached to the cord from my stereo. I decided we should never part again. He didn't even mind when I installed a tracking device that allows me to view his location from any internet connection. It's better for both of us this way.
Soon our phones could be monitoring our daily activities like phone calls and emails and watching for deviations from our normal patterns of socialization. Interpreting self-isolation as a warning sign of depression, the "virtual human therapist" would then gently remind us to call or go see a friend. This Mobilyze program is being developed by a research team at Northwestern University Feinberg School of Medicine, who are also working on programs to track your medication and remind you to take your daily dose of antidepressants and a social network for cancer survivors battling sadness and stress.
While this virtual therapist shouldn't be thought of as an alternative to therapy, the iPhone is a perfectly viable alternative to a relationship. Maybe I'll even treat him to a movie this Valentine's Day…