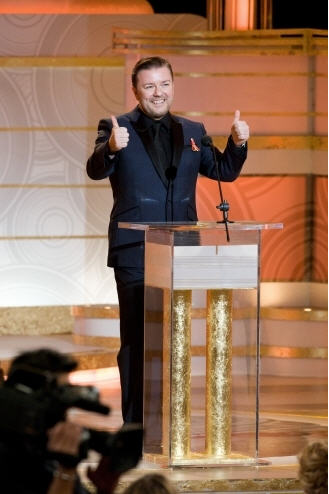 During last year's Academy Awards Ricky Gervais, who hosted the Golden Globes that year and will again this Sunday, commented on how sad it was no one got to drink during the long awards ceremony. A line of waiters then emerged from the wings and began distributing bottles of beer to the nominees. Those out there like me who watch the Globes and Oscars every year got the joke.
In the Hollywood awards season family, Oscar is the super pretentious brother who takes himself way too seriously,while the Globes is the party animal younger sibling who while perhaps is not as important, is way more fun to be around. And it's not hard to figure out the fact that the stars sit around at the Globes and openly drink is one of the main reasons for that. Gervais in fact could often be seen sipping on his pint last year in between his sometimes extremely harsh teasing of the celebrities in the room.
Gervais got so brutal in fact that its quite a surprise to see him back again this year. The truth is I commend the Hollywood Foreign Press Association for being willing to take a risk like that, and have someone who you know isn't just going to be reading that god awful award season banter directly off the teleprompter. So without further ado here's my two cents on the major awards that will be handed out this weekend in La La Land:
FILM:
1. Best Picture, Motion Picture Drama: As I suspected in my review of the best films of 2010, the excellent film The Ghost Writer has been overlooked by the flashier films and didn't even get a nod in this category. Since that's the case I'd love if Black Swan took the prize, but I can't deny The Social Network is the most likely victor here.
2. Best Picture, Musical or Comedy: The Kids are Alright is an easy win in this category, and if it isn't I'm going be seriously pissed. I mean honestly it's up again Burlesque, The Tourist, Red, and Alice in Wonderland. If you've even heard of any of those films you know what a joke them being serious competitors is.
3. Best Performance by an actor, drama: I'm torn between James Franco and Colin Firth in this category, but again I think all the buzz for the Social Network will win out in the end and Jesse Eisenberg will end up with the prize.
4. Best Performance by an actress, drama: Again if Natalie Portman doesn't win an award here I am going to be seriously peeved. While I have enormous respect for the other actresses in this category this is most definitely Natalie's year. I hate to say it but the fact that she just announced she's knocked up only helps her chances on Sunday and at the Oscars in February.
5. Best Performance by an actor, Musical or Comedy: My vote is all the way for Paul Giamatti in Barney's Version, based on Mordecai Richler's last novel. Oh and by the way if you're a Montrealer and haven't seen this film yet then shame on you.
6. Best Performance by an actress, Musical or Comedy: Again I'm torn here by the leading ladies of The Kids are Alright, Julianne Moore and Annette Bening. If I was forced to chose though I'd have to go with Bening, mostly because her role required allot more effort to get audience sympathy and she pulled it off beautifully.
7. Best Performance by a supporting actor: Hands down Geoffrey Rush for the King's Speech
8. Best Performance by a supporting actress: Again hands down for Mila Kunis in Black Swan
9. Best Director: While I would love a win for Christopher Nolan for a little film of his you may have heard of called Inception, I think we all know the prize will go to David Fincher for The Social Network.
TELEVISION
1. Best Television, Drama: I know it may be an obvious choice but I'm all for Mad Men. Dexter was good this season, but not nearly as awesome as last season.
2. Best Television, Comedy: For me it's a toss up between Big Bang Theory and Modern Family, I think they have a pretty equal shot at winning this year. I would love to say 30 Rock all the way but sadly the quality of the show has started to diminish these past two seasons. I still love you though, Tina Fey. Never forget it.
3. Best Performance by an actor in a television series, musical or comedy: I'm all for another Jim Parsons win this year… If you've ever watched Big Bang we all know that Sheldon is without a doubt the best part of that show.
4. Best Performance by an actress in a television series, musical or comedy: This year I would go for Laura Linney in The Big C, although honestly I only watched a few episodes this season from her show. I do know, though, from past years that the Globes like to award actresses in the first seasons of their shows, so besides being a totally amazing actress, I think she has a good shot here.
5. Best Performance by an actor in a television series, drama: The most difficult category by far for me to contemplate a deserving winner. While Brian Cranston has totally deserved all the awards he's gotten for playing Walter White on Breaking Bad, I'd also love to see Jon Hamm, aka Don Draper, finally get some awards love. Then of course you can't forget the brilliance of Michael C. Hall- no matter the strength or weakness of a particular season of Dexter he has been consistently brilliant. There's also Steve Buscemi to consider, Boardwalk Empire is a show that has really grown on me this year and he's great in it. So I guess what I'm saying here is I'll be happy if any actor besides Hugh Laurie wins in this category this year.
6. Best Performance by an actress in a television series, drama: While I'm desperate for Elisabeth Moss to win for her brilliant work on Mad Men, I have a feeling Julianna Margulies will win for The Good Wife.